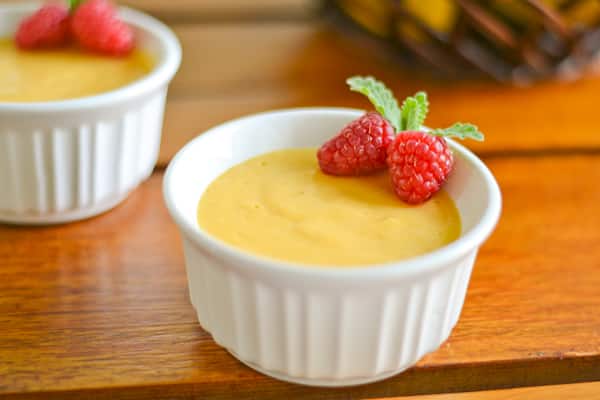 Mango pudding is my kid's favorite dessert. It's the usual choice when it is in the restaurant's menu. I like this recipe because it uses fresh mangoes, which are abundant at this time of the year. It is simple and easy to make. The hard part is waiting for it to chill and set but it's worth the wait. You will be rewarded with a sweet, refreshing and delicious treat. 😀

Mango Pudding
Ingredients
5 small ripe mangoes (makes about 2 cups mango puree)
½ cup hot water
1 (7g) envelope unflavored gelatin powder
½ cup evaporated milk
¼ cup sugar
Instructions
Peel the mangoes and slice the flesh from the pit. Put the slices into a blender and puree until smooth.
In a large bowl, empty gelatin envelope in hot water and stir until dissolved. Let stand for 3 minutes.
Add the evaporated milk and sugar. Stir until the sugar has completely melted. Add the mango slices and mix well.
Pour the mango mixture into 4 ramekins. Cover with plastic wraps and chill overnight.
Serve and enjoy!
Notes
Recipe adapted from "The Chinese Takeout Cookbook".