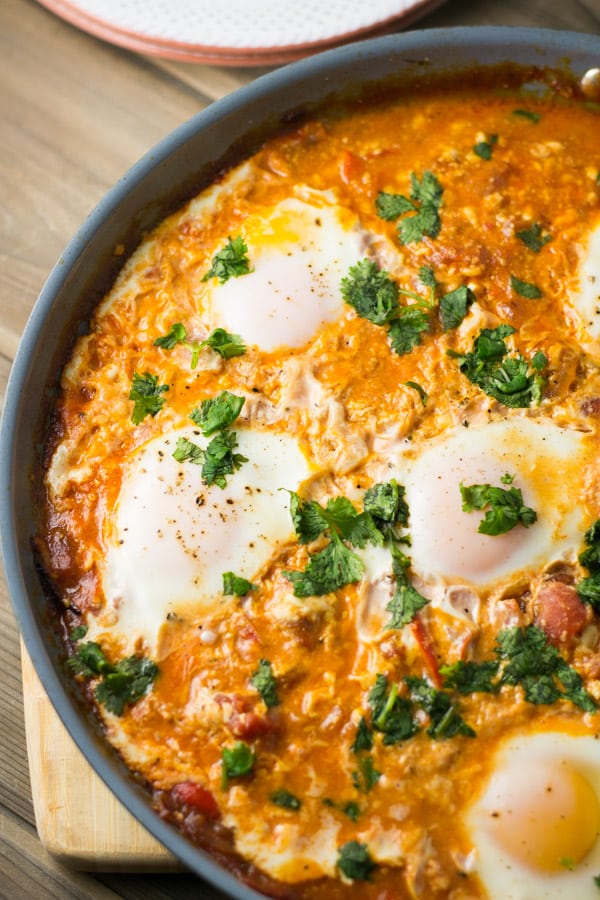 I have been wanting to make shakshuka for my family for a long time. I learned of this dish from friends and have seen pictures of it on magazines and social media. The poached eggs in a sauce of tomatoes and spices looks so appealing and delicious. I had the chance to make this awesome dish over the weekend. The onions, peppers and garlic were sauteed first and then the spices, tomatoes and feta cheese were added afterwards. Lastly, the cracked eggs were simmered in the sauce until they were set.  This dish is not only easy to make but also incredibly satisfying. I will definitely make this dish again and it will be under my list of easy and delicious dish to make. Enjoy!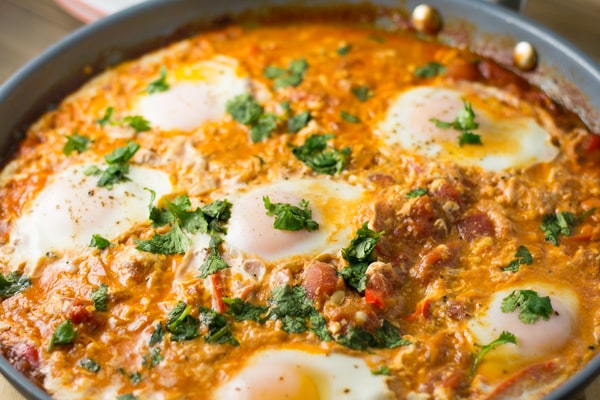 Shakshuka
Ingredients
3 tbsp extra-virgin olive oil
1 large onion, halved and thinly sliced
1 large red bell pepper, seeded and thinly sliced
3 garlic cloves, thinly sliced
1 tsp ground cumin
1 tsp sweet paprika
⅛ tsp cayenne, or to taste
1 (28 oz) can whole plum tomatoes, coarsely chopped
¾ tsp salt, more as needed
¼ tsp black pepper, more as needed
5 oz feta cheese, crumbled (about 1¼ cups)
6 large eggs
Chopped cilantro, for serving
Instructions
Heat oil in a large skillet over medium-low heat. Add onion and bell pepper. Cook gently, stirring occasionally, until very soft, about 15 minutes.
Add garlic and cook until tender, 1 to 2 minutes; stir in cumin, paprika and cayenne and cook for 1 minute.
Add tomatoes (with juices) and season with ¾ teaspoon salt and ¼ teaspoon pepper; simmer until tomatoes have thickened, about 10 minutes. Stir in crumbled feta.
Gently crack eggs into skillet over tomatoes. Season eggs with salt and pepper. Cover and let simmer until eggs are just set, 7 to 10 minutes. Sprinkle with cilantro.