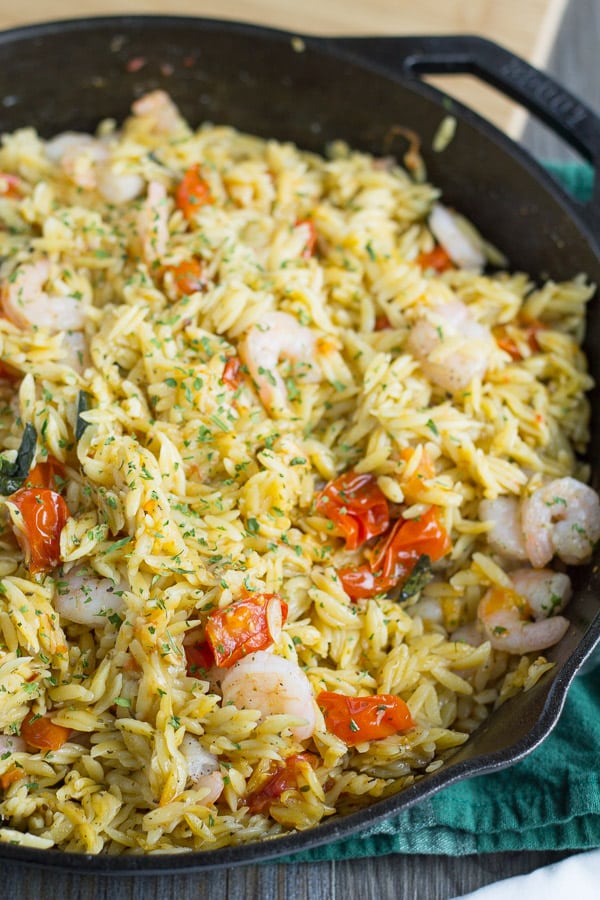 This shrimp orzo with tomato and basil dish is a simple one-pot meal. It's the perfect dish to make on a busy weeknight and takes only 30 minutes to cook. First, tomatoes and garlic are sauteed in the skillet. Then, orzo and chicken stock are added then baked until the orzo is cooked. Finally, the shrimp is distributed on top and broiled in the oven. After adding basil, we have a delicious Italian style orzo dish that is both filling, delicious and super easy to make. Enjoy!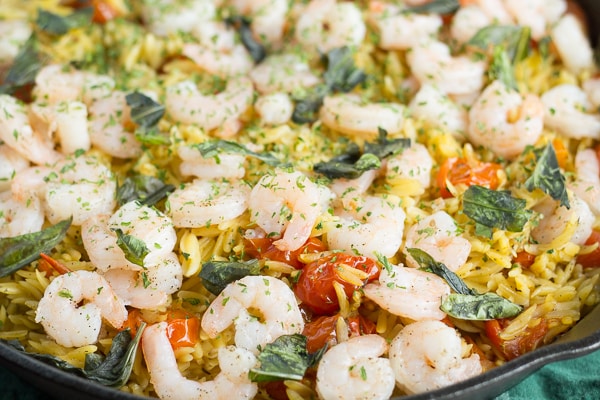 Shrimp Orzo with Tomato and Basil
Ingredients
2 tbsp extra-virgin olive oil
6 garlic cloves, minced
3 cups halved grape tomatoes (about 1 pound)
1 tsp Italian seasoning
Coarse salt and ground pepper to taste
¾ lbs orzo
3 ¼ cups chicken broth
¾ lbs lbs shrimp, peeled and deveined
1 cup fresh basil leaves, torn
Instructions
Preheat the oven to 400 F.
In a large oven and broiler safe skillet, heat 1 ½ tbsp of extra-virgin olive oil over medium heat. Add the garlic and cook until almost brown, about 1 minute. Increase the heat to high and add the grape tomatoes, Italian seasoning, salt and pepper. Cook, stirring occasionally, for about 5 minutes.
Add orzo and chicken broth. Bring to a simmer. Remove skillet from heat and transfer to pre-heated oven. Bake until most of the liquid has absorbed, 10 to 12 minutes.
Meanwhile, toss the shrimp in the remaining ½ tbsp. of olive oil. Season with salt and pepper. Remove skillet from oven and evenly place shrimp on top of the orzo. Turn oven to broil. Broil on high until shrimp is opaque throughout, about 4 minutes.
Sprinkle with torn basil leaves and serve. Enjoy!