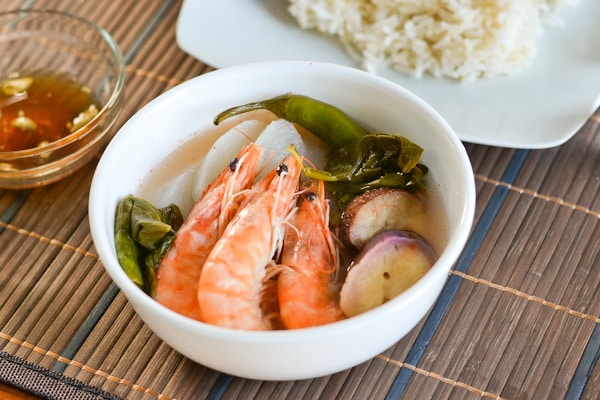 Sinigang na hipon is one of the many Filipino sinigang recipes.  It consists of shrimp and mixed vegetables in a tamarind base soup.  The vegetables that are usually used are radish, taro roots, okra, green beans or string beans, eggplants and kangkong (ong choy or water spinach).  Tomatoes, onions, ginger and siling labuyo (bird's eye chili) may also be added.
I find the broth of sinigang na hipon's is not as sour compare to the other sinigang soup. The shrimp with its head intact makes the soup more flavorful and less sour.  What I like most about this delicious and comforting soup is that it's one of those dishes that tastes even better the next day! Save some leftover for the next day, heat it up in the oven or microwave and you have an even-better tasting sinigang na hipon! Enjoy!
Sinigang na Hipon (Shrimp in Tamarind Soup)
Ingredients
2 lbs shrimp
10 cups water
1 thumb-size ginger, cut into strips
6 pieces taro roots, peeled and halved
1 small radish, peeled and sliced thinly
12 pieces okra
1 medium size tomato, cut into wedges
1 small red onion, chopped
2 serrano peppers
1 packet (1.76 oz) tamarind soup mix
Bunch of spinach
Fish sauce or salt to taste
Instructions
Put water in a pot. Add salt and ginger. Bring to a boil.
Add taro roots and cook for 5 minutes. Add the radish and okra and cook for another 3 minutes or until the taros are fork tender.
Add the shrimps and tamarind soup mix. Let it boil. Season to taste.
Add tomatoes, red onions and serrano peppers. Cook for couple of minutes.
Add the spinach. Cover and turn off heat.
Serve with steamed rice. Enjoy!