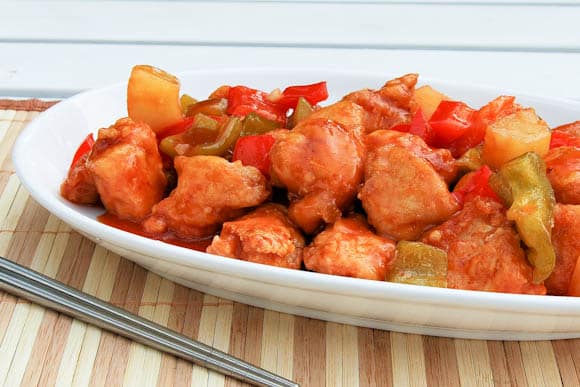 Sweet and sour chicken is another popular Chinese dish which consists of bite sized chicken, fried and then combined with a sweet and sour sauce. Vegetables like onions, bell peppers or carrots can be added according to preference.
I got this recipe from a cookbook that I brought with me when our family came to Canada.  The recipe calls for pork as the main protein but I changed it to adapt to my family's taste. My family loves it and according to my husband "It's better than what is served in restaurants" 🙂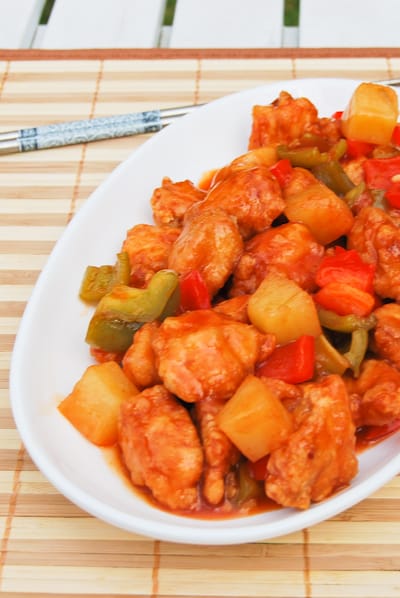 Sweet and Sour Chicken
Ingredients
4 boneless skinless chicken breasts, cut into cubes
1 tablespoon soy sauce
1 tablespoon sherry
½ -3/4 cup cornstarch
Oil for frying
1 tablespoon olive oil
2 cloves garlic, chopped
½ green bell pepper, diced
½ red bell pepper, diced
½ cup pineapple chunks
Sweet and Sour sauce:
3 teaspoons soy sauce
6 tablespoons white vinegar
¼ cup sugar
8 tablespoons ketchup
2 tablespoons water
1 teaspoon Worcestershire sauce
1 teaspoon cornstarch
Instructions
Marinate the chicken pieces in soy sauce and sherry for 30 minutes.
Dip each piece in cornstarch and fry over medium heat until golden brown. Drain on paper towels.
In a bowl, mix ingredients for sauce. Set aside.
Heat 1 tablespoon olive oil in a skillet. Sauté garlic until light brown. Add peppers and sauce mix. Bring to a boil then add chicken pieces and pineapples, stirring well to lightly coat the chicken with the sauce.
Transfer to a plate and serve immediately.
Enjoy!
Notes
Adapted from "The Maya Kitchen"
Check out some of my other Asian inspired chicken dishes.
Sticky Honey Sesame Drumsticks