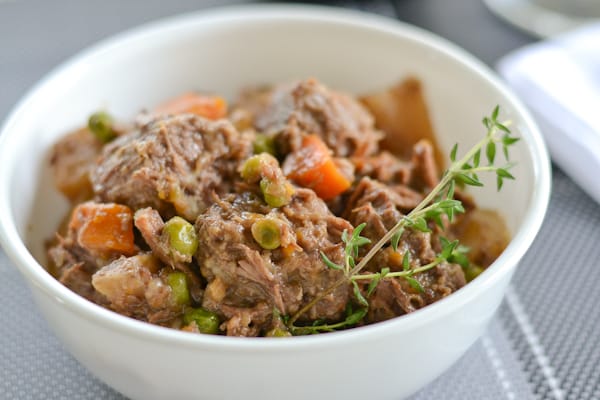 Beef stew is a staple dish at my house. My family loves this hearty dish so much! I make it at least once a month. My usual way of cooking beef stew is to slowly cook it on the stove for an hour or so, until the meat is melt-in-your-mouth tender. On the weekend, I was able to cook beef stew differently, that is, using a slow cooker. In this slow cooker beef  stew, the beef was seasoned and browned first and then slowly cooked with some vegetables in a mixture of broth, wine and Worcestershire sauce. In the final stage of cooking, a flour mixture was whisked in to thicken the gravy. The meat turned out tasty and tender after 8 hours of cooking.  This one pot (or slow cooker) meal is all I need to feed my family. Delicious! 😀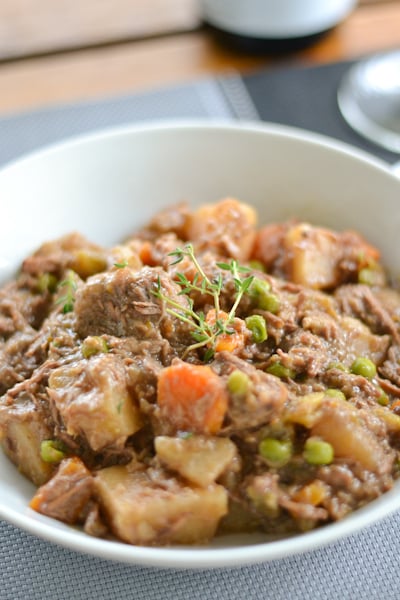 Slow Cooker Beef Stew
Ingredients
2 lbs stewing beef, cubed
½ cup flour
1 teaspoon salt
½ teaspoon pepper
1 teaspoon onion powder
½ teaspoon thyme
2-3 tablespoons olive oil
1 cup beef broth
½ cup red wine or beef broth
1 tablespoon Worcestershire sauce
1 large potato, diced
1 cup diced carrots
1 cup sliced celery
1 bay leaf
2 cloves garlic, minced
1 cup frozen peas
1 tablespoon liquid seasoning (optional)
Instructions
In large plastic bag, combine flour, salt, pepper, onion powder, and thyme. Add beef and shake to coat.
In large non-stick skillet, heat olive oil in medium heat; brown meat on all sides. Transfer browned meat to a 3 quartz slow cooker.
Put the skillet back on the stove and de-glaze the pan with beef broth, wine, if using and Worcestershire sauce. Add the sauce to the slow cooker.
Add the potatoes, carrots, celery, bay leaf and garlic to the slow cooker. Stir, cover and cook on low for 7 to 8 hours.
Increase heat to high; stir in peas and liquid seasoning, if using.
Whisk 2 tablespoons flour in 2 tablespoons water; stir into stew. (You may skip this step if you want your stew to have more sauce)
Cook, covered for another 15 minutes. Discard bay leaf.
Serve and enjoy!