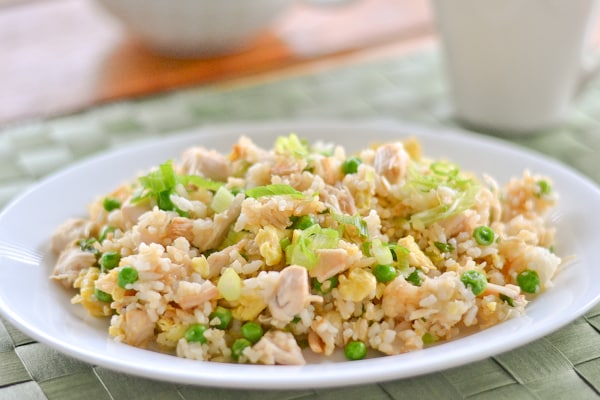 This chicken fried rice dish is another hit with my family. I wasn't surprised because they love any kind of fried rice I make, especially if they can take it to work for lunch the next day. I used the leftover meat from the rotisserie chicken I bought from Costco. It has been seasoned therefore it gives more flavor to the dish when mixed with the rice. This dish is the perfect one to make when you are pressed for time. In less than an hour, you have a simple yet delicious meal to enjoy!
Chicken Fried Rice
Ingredients
4 cups cold cooked rice
2 tablespoons olive oil
4 eggs, lightly beaten
2 green onions, sliced thinly
2 cups diced cooked chicken meat (I used left-over store bought rotisserie chicken meat)
1 cup frozen green peas
2 tablespoons liquid seasoning or soy sauce (or to taste)
Seasoning salt or salt and pepper
Instructions
Season the eggs with seasoning salt or salt and pepper.
Heat 1 tablespoon oil in a wok or a large non- stick frying pan. Add the beaten eggs; pushing the set egg towards the center and tilting the pan to let the unset egg run to the edges. Cook until firm and then break up into large pieces. Transfer into a plate and set aside.
Using the same pan, swirl in the remaining tablespoon oil. Add the green onions and stir-fry for 20 seconds. Add the rice, stirring and breaking up any clumps.
Add the chicken, peas and chopped eggs. Stir-fry for couple of minutes or until the peas have been cooked through.
Add liquid seasonings or soy sauce. Stir until the mixture is well blended.
Serve and enjoy!