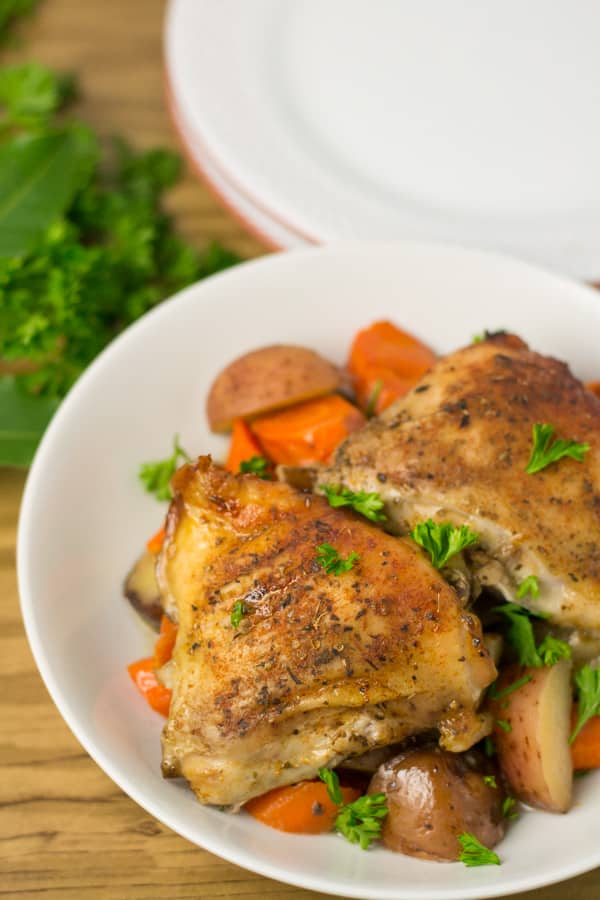 Last week, my friend at work gave me a bunch of recipes, knowing that I am constantly looking for recipes to try. I chose to try this slow cooker herb chicken recipe because it uses a slow cooker and it has simple and easy accessible ingredients. I adapted the recipe to fit my family's needs and also to make use of what was in my freezer. I only had to grab some carrots and potatoes on my weekly visit to the grocery store. I had the chance to make this dish after work on Monday. The sliced carrots and potatoes were placed at the bottom insert of the slow cooker and then the herb and spice seasoned chicken pieces were arranged on top. After six hours of slow cooking, the chicken came out tender, moist and very tasty. The carrots and potatoes came out nice and tender too. There's no water or broth used in this recipe. The juices that came out of the chicken served as the liquid for this dish.  At the same time, the skin of the chicken kept them nice and moist.  This slow cooker chicken with potatoes and carrot dish is a complete meal onto itself. Enjoy!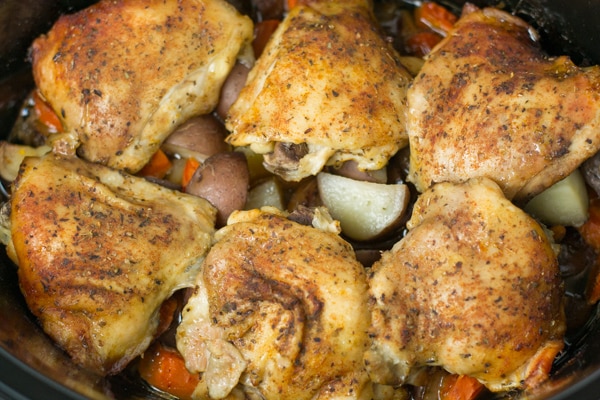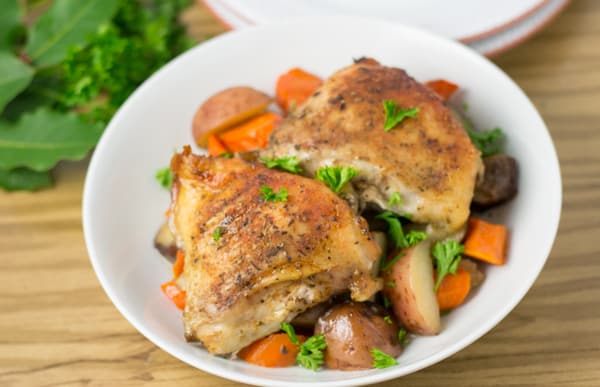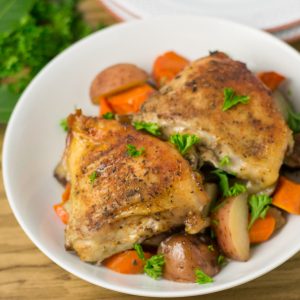 Slow Cooker Herb Chicken
Ingredients
2

tbsp

brown sugar

1

tsp

salt

1

tsp

dried oregano

1

tsp

paprika

1

tsp

garlic powder

6

pieces

skin-on boned-in chicken thighs

2

lbs

red potatoes

4

large carrots

peeled and chopped into 1-in. pieces
Instructions
Wash each potato under running water, using a vegetable scrubbing brush to remove any residual dirt on the skin. Cut each potato in half or quarter, depending on the size. Set aside.

In a small bowl, combine together brown sugar, salt, oregano, paprika and garlic powder. Rub mixture all over chicken, pressing gently so spices stick to skin.

Arrange potatoes and carrots in bottom of slow cooker insert. Place chicken on top of vegetables. Cover and cook on low for about 6 hours.
Notes
Recipe adapted: Walmart Live Better Fall 2016 issue.