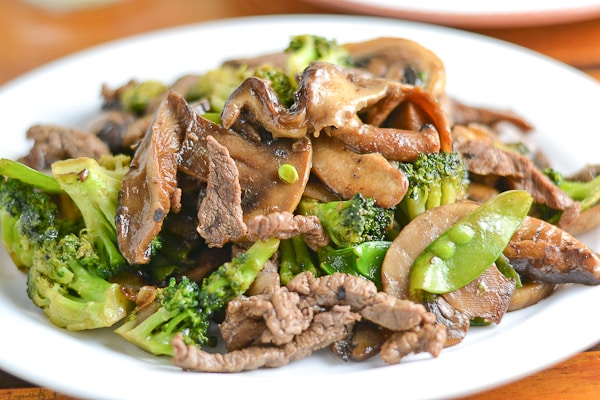 I went to my local butcher shop after work the other day and found this good looking top sirloin steak on sale. I bought one, thinking it would be a great protein to use in a stir-fry. I was thinking it would go well with the white button and fresh shitake mushrooms as well as a handful of snow peas and one head broccoli I have in my fridge. First, I sliced the steak into thin, narrow strip pieces and then marinated it in my favorite marinade; lemon juice and soy sauce. I grew up eating meat using this marinade and so far, it has not disappointed me. The meat always turns out tender and very tasty. In this recipe, the meat and vegetables were cooked separately and then combined at the end. They were flavored simply with oyster sauce and soy sauce or salt.  The cooked fresh shitake mushrooms added a nice earthy smell as well as flavor to this stir-fry. It was truly an enjoyable meal!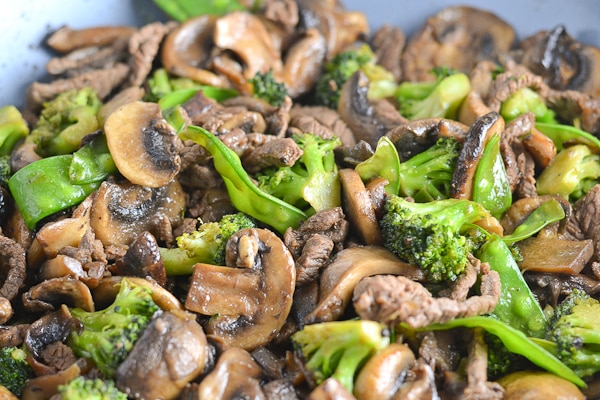 Steak Stir Fry with Mushrooms
Ingredients
2 tbsp lemon juice
2 tbsp soy sauce
10 oz top sirloin steak, cut into thin, narrow strips
2 cups broccoli florets
4 tbsp olive oil
1 shallot, chopped
1 lb white button mushrooms, sliced
8 oz fresh shitake mushrooms, sliced
A handful of snow peas, trimmed
1-2 tbsp oyster sauce
Sea salt or soy sauce to taste
Instructions
In a medium bowl, combine lemon juice and soy sauce. Add steak strips and mix well. Cover and refrigerate for at least 30 minutes.
Meanwhile, blanch broccoli florets in hot boiling water for 1 minute. Drain and set aside.
Heat wok or skillet over medium high heat. Add 2 tbsp olive oil; swirl to coat sides of skillet. Add beef and marinade; stir fry for 5 minutes or until liquid has evaporated and beef is browned. Transfer beef to a plate and set aside.
Using the same skillet, add remaining 2 tbsp olive oil. Add shallot and mushrooms; stir-fry for 8-10 minutes or until mushrooms are tender.
Add broccoli and snow peas; stir-fry for a minute or two. Add browned beef and oyster sauce; stir until heated through. Correct seasoning by adding salt or soy sauce.
Serve with steamed rice. Enjoy!