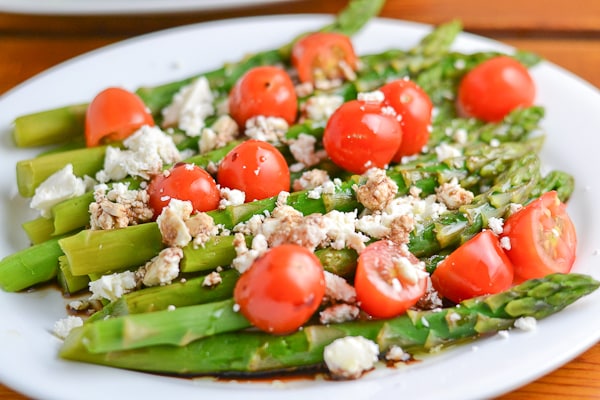 Simple and healthy is what I would describe this asparagus salad. It consists mainly of fresh asparagus, which was cooked in salted boiling water until tender, and some grape tomatoes. They were then simply dressed with crumbled feta cheese, extra virgin oil and balsamic vinegar. Serve this pretty looking salad as is or pair it up with fish or meat. Enjoy!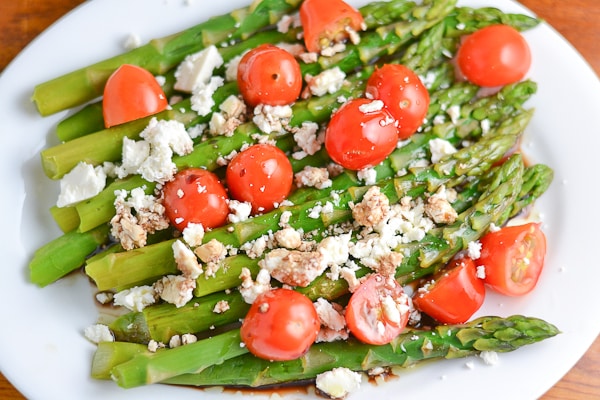 Asparagus with Tomato and Feta
Ingredients
1 bunch asparagus, trimmed
20 cherry or grape tomatoes, halved
¼ cup crumbled feta cheese
1tbsp extra virgin olive oil
1tbsp balsamic vinegar
Salt and freshly ground pepper to taste
Instructions
In a pot, bring salted water to a boil. Add asparagus and cook until crisp and tender, about 5 minutes. Drain and transfer to a serving platter. Top with halved tomatoes and sprinkle with feta cheese. Drizzle with olive oil and balsamic vinegar. Season with salt and pepper.
Serve and enjoy!