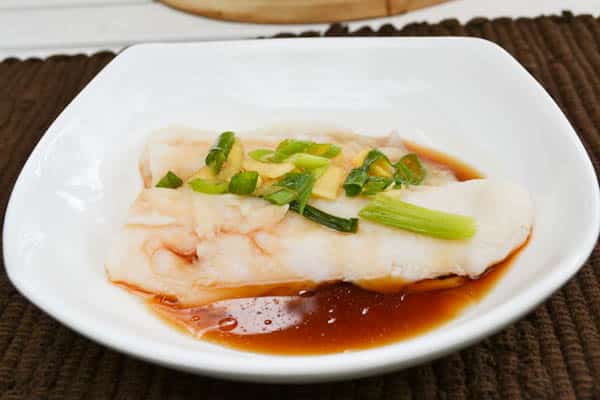 My youngest son had a minor gum procedure last week. He was told to have soft diet for two weeks.  After eating congee and jello for two days, he was already asking for a more substantial and yet soft food. So, I made him something my mom would usually make for me when I was sick, steamed fish.
Steamed fish is a traditional Cantonese style dish.  Whole fish is normally used especially during New Years or other Chinese Festivals. For them, whole fish symbolizes "abundance".  For an everyday meal, I prefer to use fish fillet because it is easy to manage and takes shorter time to cook.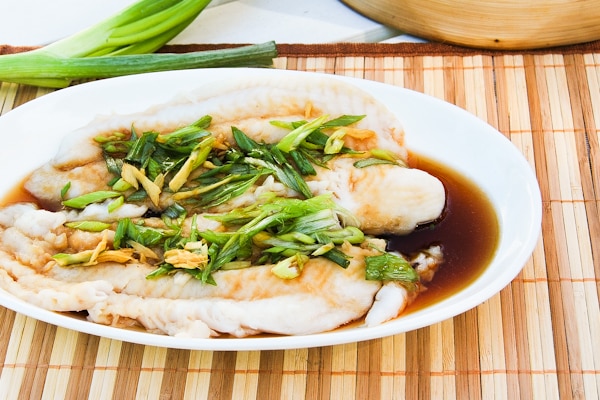 Steamed Fish Fillet
Ingredients
3 white fish fillets
3 stalks green onions, julienned
1 thumb size ginger, peeled and julienned
5 tablespoons mirin
3 tablespoons soy sauce
1 tablespoon olive oil
Salt
Instructions
Cut each fillet in half and sprinkle with salt.
Place slices of fish in a single layer on a heatproof round plate. Top with green onions and ginger.
Put the plate in a bamboo steamer over a pan of simmering water. Cover and steam for 10 minutes or until fish is cooked.
Using a spatula, gently transfer cooked fillets on a serving plate. Set aside.
In a saucepan, combine mirin, soy sauce and olive oil. Let it boil and pour over the fish fillets. Serve with steamed rice.
Enjoy!
Notes
I did two batches of steaming because only three slices of fish at a time can fit on my 8 inches round plate.