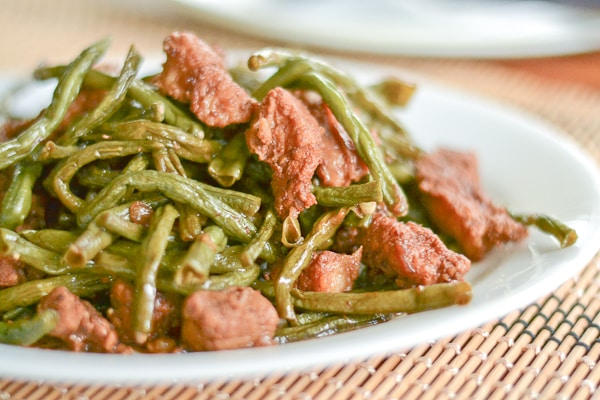 String Beans Adobo (Adobong Sitaw), is one of the many vegetables my mom would cook for us when we were growing up. She would put it in soups, pinakbet (shrimp and vegetable stew) or cook it adobo style. String beans are not always available here in Vancouver. So, every time I see some at our local Asian store, I will always make string beans adobo.
String beans adobo is a dish where the beans, along with pork pieces are simmered in a sauce consisting of soy sauce and vinegar. I like tangy dishes so I put extra vinegar in my string beans adobo. This dish with steamed rice is and will always be one of my comfort foods. Delicious!
String Beans Adobo (Adobong Sitaw)
Ingredients
2 tablespoons olive oil
3 cloves garlic, minced
1 medium onion, chopped
1 lb pork belly or shoulder, cut into strips
½ cup water
½ teaspoon salt
3 tablespoons soy sauce
3 tablespoons vinegar or more to taste
1 ½ lbs string beans (sitaw) cut into 2 inch pieces, discarding the ends
Salt and pepper to taste
Instructions
In a skillet, heat oil over medium heat. Add garlic and onions and sauté for 2 minutes or until onions are soft. Add pork and sauté until no longer pink, around 2 minutes. Add water and ½ tsp salt, bring to a boil and then lower the heat and simmer for 12 minutes, or until pork pieces are tender.
Add soy sauce, vinegar and string beans. Cover and simmer for another 12 minutes, or until the beans are tender.
Adjust seasoning by adding more vinegar, salt and pepper.
Serve with steamed rice.
Enjoy!