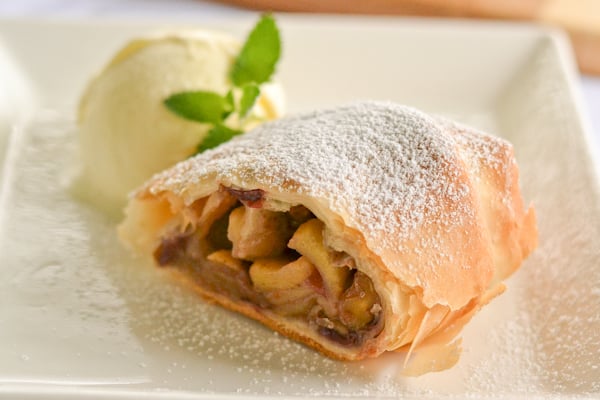 From gala to ambrosia, I have been enjoying these juicy and delectable fall bounties. I have been eating it fresh for snacks, used it in salads or baked it for desserts. One of the baked desserts I made is this popular pastry; apple strudel. In addition to apples, the filling consists of cranberries, walnuts, cinnamon, nutmeg and clove, thus giving this wonderful treat lots of flavors. To make it easier and less labor intensive, phyllo dough was used. The flaky dough was layered, rolled and baked around the apple filling. A slice of this delicious apple strudel and a scoop of ice cream is a good way to end a wonderful meal. Yummy!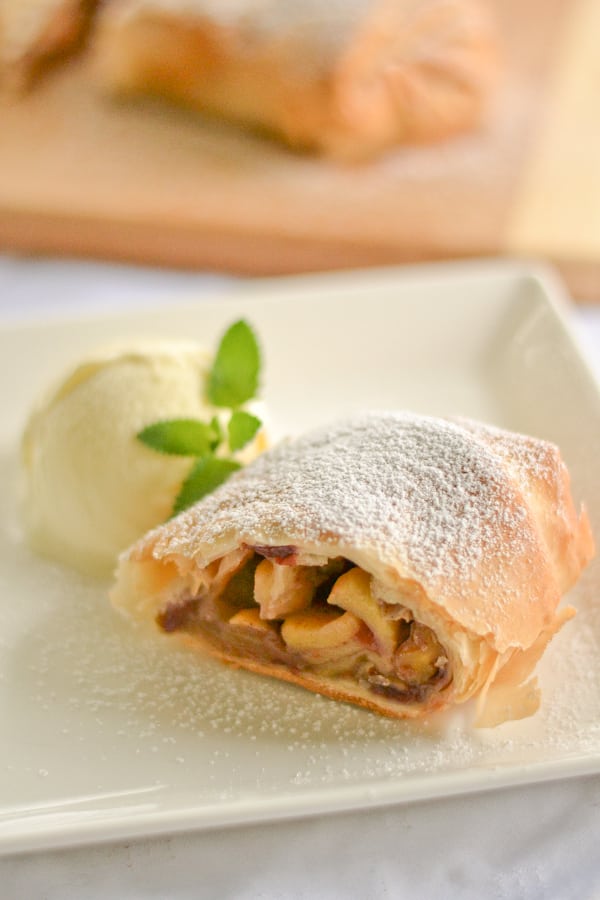 Apple Strudel with Cranberries and Walnuts
Ingredients
½ cup dried cranberries
3 medium red apples, peeled, cored and thinly sliced
1 tbsp lemon juice
⅓ cup packed golden brown sugar
½ cup walnut pieces
2 tbsp all-purpose flour
½ tsp ground cinnamon
Pinched of ground nutmeg, clove and salt
5 sheets phyllo pastry, thawed
⅓ cup melted butter
Icing sugar for dusting
Whipped cream or vanilla ice cream
Instructions
In a small bowl, cover the dried cranberries with 1 cup hot water. Soak for 30 minutes and then drain well.
Placed apples and lemon juice in a medium bowl and toss to coat. Mix in the cranberries, brown sugar, walnuts, flour spices and salt.
Place an oven rack in the middle position. Preheat the oven to 375°F. Line a baking sheet with parchment paper.
Set one sheet of phyllo on a work surface, with the wider side parallel to you. Brush the top of the sheet lightly with the melted butter. Top with another sheet and brush it lightly with butter. Repeat these steps until all the phyllo is used.
Place the layered phyllo sheets on the baking sheet. Spoon on the apple mixture and shape it into a long narrow rectangle along the bottom of the pastry nearest you. Fold over the sides of the pastry about 2 inches on either side, and then carefully and tightly as you can, roll the filling into the pastry.
Brush the top of the strudel with a little melted butter. Make a shallow diagonal cuts, about 2 inches apart, into the top of the pastry to make it easier to cut after baking. Bake for 30-35 minutes, until puffed and golden.
Allow the strudel to rest at least 15 minutes before serving. To serve, dust strudel with icing sugar and then slice into portions. Serve slices of the strudel with dollop of whipped cream or scoop of ice cream.
Enjoy!
Notes
Recipe source: Eric Akis