Here's another quick and easy chicken recipe. In this sweet chili chicken recipe, bite-sized chicken thighs are simply stir-fried with aromatics and then flavored with a mixture of chili sauce and rice wine vinegar.  Slices of green and red bell peppers give this dish color, as well as its crunchy texture. This delicious dish is best served with steamed rice. Enjoy!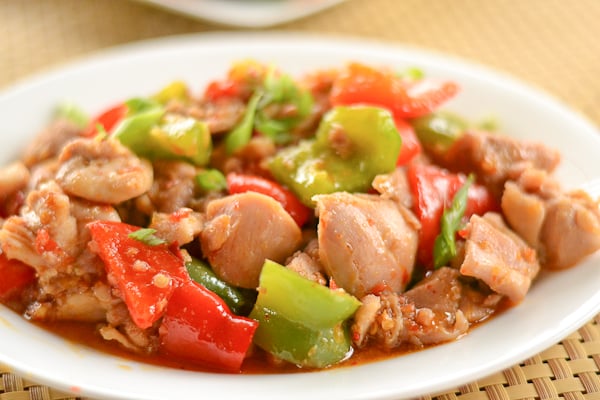 Sweet Chili Chicken
Ingredients
1½ lbs boneless skinless chicken thighs, cut into bite-size pieces
½ teaspoon salt
1 tablespoon vegetable oil
1 clove garlic, minced
2 teaspoons finely chopped fresh ginger
1 onion, chopped
1 red bell pepper, cut into bite-size pieces
1 green bell pepper, cut into bite-size pieces
½ cup Thai-style sweet chili sauce
1 tablespoon rice wine vinegar
2 green onions, thinly sliced
Instructions
Sprinkle chicken with salt. In large skillet, heat oil over high heat; stir-fry chicken until starting to brown and juices run clear when chicken is pierced, about 6 minutes.
Add garlic and ginger; stir-fry until fragrant, about 1 minute. Add onion, red and green peppers; stir-fry for 3 minutes, adding 1 tablespoon water at a time, if needed to prevent sticking to pan.
Mix chili sauce with vinegar; add to pan and cook over medium-high heat, stirring often, until reduced and vegetables are tender-crisp. Serve sprinkled with green onions.
Notes
Source: Canadian Living Magazine: December 2011