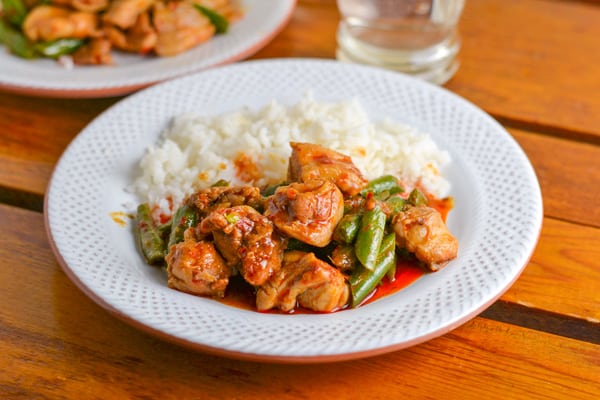 This chicken dish is super easy to make. It is an ideal dish to make if you are pressed for time. It also consists of few and accessible ingredients. The chicken pieces and green beans were simply cooked in a flavorful sauce of curry paste, fish sauce, sugar and oyster sauce. The chicken was very tasty and the beans were crisp tender. My family and I enjoyed this delectable dish with steamed rice. This recipe will definitely be on my list of easy and delicious chicken recipes. Enjoy!
Thai Red Curry Chicken with Green Beans
Ingredients
2 tbsp vegetable oil
¼ cup Thai red curry paste
½ lb green beans, trimmed and cut diagonally into 1-inch pieces
1 lb boneless, skinless chicken thigh, sliced into bite-sized pieces
1 tbsp fish sauce, or more to taste
2 tsp granulated sugar
2 tbsp oyster sauce
Instructions
Heat oil in a 10-inch wok or skillet over medium-high heat until shimmering. Add curry paste and cook, stirring constantly and pressing curry paste against bottom of pan until fragrant, about 30 seconds.
Add green beans and increase to high. Cook, stirring and tossing constantly until beans are just beginning to turn tender-crisp, about 1 minute. Add chicken, fish sauce, sugar, and oyster sauce. Stir to combine.
Add ¼ cup water, stir and cook until beans are tender-crisp and chicken is cooked through, around 2-3 minutes. Taste sauce; add more fish sauce if desired. Transfer to a serving platter and serve.