Tonkatsu or Japanese style breaded pork cutlet is one of my family's favorite dishes to order whenever we go to any Japanese restaurant. It is one of those dishes that my family loves so much, I had to recreate it at home. Boneless loin chops are normally use in Tonkatsu but in this recipe, I used bone-in chops that were sliced thinly. Thinly sliced bone-in chops take less time to fry and I find them tender and more flavorful when cooked. Making tonkatsu at home is super easy and the steps are similar to any breaded chops recipes. The only difference is the kind of breadcrumbs use. The chops were simply seasoned with salt and paper, coated with flour, dipped in beaten eggs, coated with Panko breadcrumbs and then fried until browned and cooked. To make life more easier, I used store bought tonkatsu sauce to go with it. However, my husband, who loves simple things, enjoyed these breaded chops on its own with rice. He said it does not need any sauce. It was tender and delicious on its own and I agree with him. Enjoy!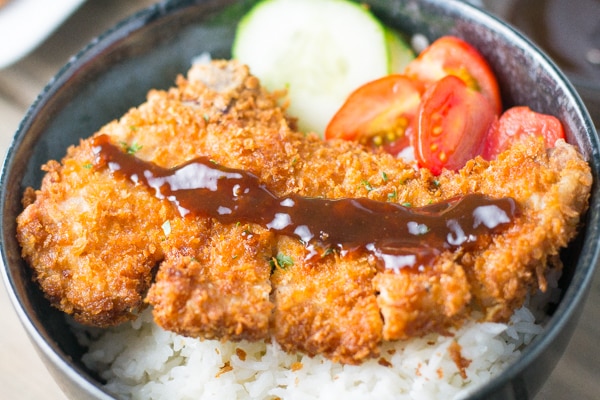 Tonkatsu (Japanese Pork Cutlets)
Ingredients
4 pork loin chops, bone-in or boneless
Sea salt and freshly ground pepper
1 egg, beaten
¼ cup all-purpose flour
1 cup Panko breadcrumbs
Vegetables oil for frying
Instructions
Prepare the chops by making 3-4 slits on one end to prevent chops from curling when frying. Season chops with salt and pepper.
Spread flour on shallow dish. Beat egg in second shallow dish. Spread Panko breadcrumbs in third shallow dish.
Coat the pork with the flour thoroughly, dip in beaten eggs and then coat with the breadcrumbs, pressing gently to adhere.
Heat the oil in a skillet or wok over medium high heat. Fry the breaded pork chops until browned and cooked. Drain on paper towel-lined plate.
Serve with steamed rice and tonkatsu sauce, if desired.