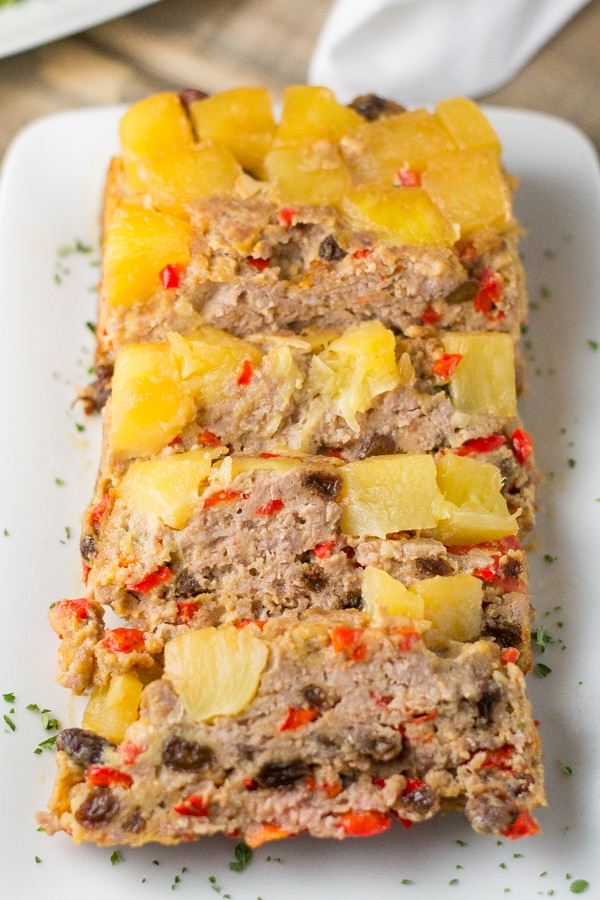 Meatloaf is one of those dishes that I frequently made when my kids were growing up. It is such an easy dish to make especially when one is pressed for time. Furthermore, it is such a delicious and comforting dish to have especially after a long day at work. I have shared a quick meatloaf recipe before but this Hawaiian meatloaf is different in the sense that red bell pepper, raisins and evaporated milk were used in addition to the usual ingredients of ground pork, bread crumbs and eggs. Pineapple chunks were also used, hence the name Hawaiian meat loaf. In this recipe, all the ingredients were mixed together and then spread over a layer of pineapple chunks and syrup. It was then baked in the oven for an hour. After the meat loaf has cooled, the pan was turn upside down on a serving plate and unmold.  The meat loaf with pieces of pineapple chunks on top was an interesting sight to look at. I find there were too much pineapple chunks so maybe next time, I will use less or even use crushed pineapple instead. Nevertheless, the meat loaf tastes good especially with rice and ketchup. Enjoy!
Hawaiian Meatloaf
Ingredients
1 lb lean ground pork
1 red bell pepper, chopped
2 eggs
¼ cup evaporated milk
½ cup raisins
⅓ cup bread crumbs
½ tsp black pepper
2 tsp salt
1 (398 ml) can pineapple chunks, drained well
Syrup
¼ cup pineapple juice
2 tbsp brown sugar
Instructions
Preheat oven to 350 degrees F. Grease a 9X5 inch loaf pan.
In a bowl, combine all ingredients except pineapple chunks. Mix well and set aside.
In a small saucepan, boil pineapple juice and brown sugar until thick or reduce by half.
Pour syrup in a loaf pan. Arrange pineapple chunks at the bottom of the pan and then top with the meat mixture. Bake in the oven for an hour.
Cool and unmold from the pan. Slice and serve.
Notes
Recipe adapted from the cookbook: "Filipino Cuisine: A Centro Escolar University Centennial Collection"