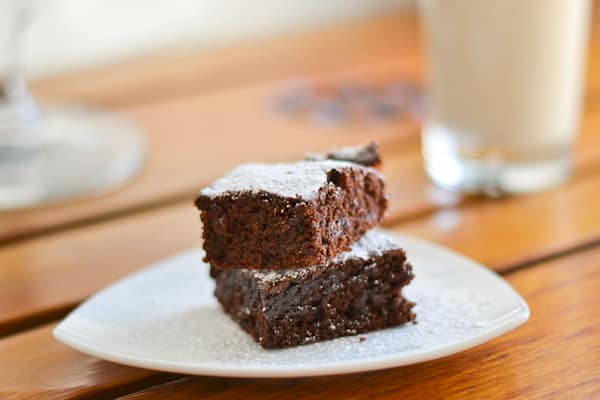 Brownies are still the most popular snack or dessert at my house. Nobody, even my husband can resist these cakey bars of chocolate treats. Brownies may include nuts, frosting or whipped cream. My favorite is the ones that I used to buy from Goldilocks (a popular Filipino bakeshop), the ones that have cashews in it. Other than that, I like my brownies simple, just with chocolate in it. Three types of chocolate, that is.
The original recipe calls for 2 cups of brown sugar. But for this recipe, I reduced the amount in half, resulting in delicious brownies that are not too sweet and yet still satisfying. What a treat! 😀

Triple Chocolate Brownies
Ingredients
1⅓ cups dark chocolate chips
1 cup unsalted butter
1 cup all purpose flour
½ cup cocoa powder
1 teaspoon baking powder
½ teaspoon salt
4 eggs
1 cup brown sugar
1 tablespoon vanilla extract
1 cup chocolate chips (milk or dark, which ever you prefer)
Instructions
Preheat oven to 350°F.
Melt the 1⅓ cups dark chocolate chips and butter in a large heatproof bowl set over a pot of simmering water, stirring constantly. When the chocolate and butter have melted, whisk until smooth. Set aside to cool.
In another bowl, combine the flour, cocoa powder, baking powder and salt. Set aside.
Add the eggs, sugar and vanilla to the bowl of chocolate and butter mixture. Mix thoroughly.
Stir in the flour mixture and a cup of chocolate chips until well incorporated.
Pour the batter into a lightly greased 9 X 13 inch pan. Bake for exactly 25 minutes.
Let the brownies cool for an hour and using a plastic knife, slice into 24 bars.
Serve and enjoy!
Notes
Recipe adapted from: The Best of Chef at Home.