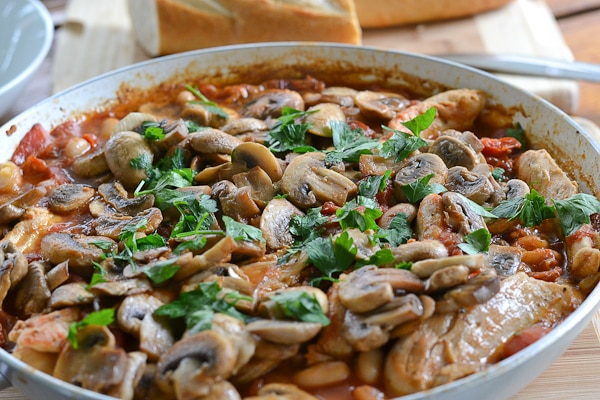 I love this new green pan that I bought recently and I have been using almost every day. The first dish that I cooked in it was this Tuscan chicken dish that I found online.  It uses herbs like oregano and thyme as well as sundried and diced tomatoes and cannellini beans. These ingredients are typical ones used in the Tuscan cuisine. The combined flavors of these ingredients make this dish very tasty and hearty as well. Enjoy this wonderful dish on its own or with crusty bread.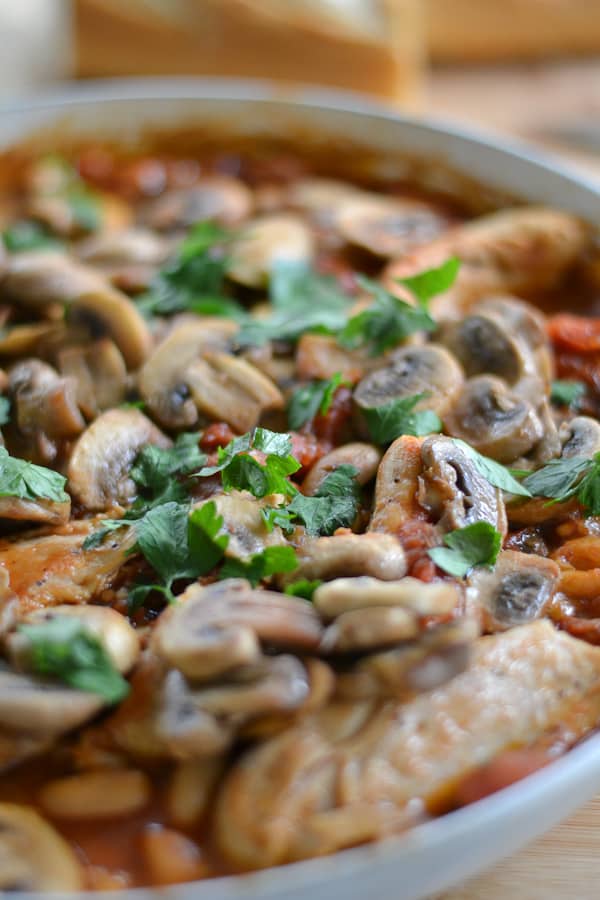 Tuscan Chicken Skillet
Ingredients
2 tbsp olive oil plus more if needed
1 lb chicken breasts, cut into 1 ½ to 2-inch strips
1 tsp salt
1 tsp freshly ground black pepper
1 tsp oregano
1 tsp fresh thyme or ½ tsp dried thyme
1 small onion, diced
3 cloves garlic, minced
12 oz. mushrooms, sliced
⅔ cup sundried tomatoes, julienne- cut or chopped
1 (14 oz) can Cannellini beans, drained and rinsed
1(28 oz) cans diced tomatoes
1 tbsp sugar
Salt and pepper, to taste
Chopped parsley for garnish
Instructions
Season the chicken pieces with salt and pepper. Heat 1 tablespoon of olive oil in a large sauté pan or cast iron skillet over medium-high heat; add chicken and brown for 3 minutes on each side, adding more oil and cooking in batches, if needed.
Remove chicken and set aside on a plate. Add the remaining tablespoon olive oil to the pan. Add the sliced mushrooms in a single layer and brown, working in batches, a few minutes per side. Remove from the pan and set aside.
Add the onion and sauté for 3 minutes. Add the garlic, and sundried tomatoes; sauté for 2 minutes. Stir in the diced tomatoes, spices, beans, and sugar.
Add the chicken back to the pan and spoon some of the sauce and vegetables over top of the chicken. Cover and simmer until the chicken is cooked, about ten minutes. Return the mushrooms to the pan. Correct seasoning by adding salt and pepper. Sprinkle with chopped parsley and serve.
Enjoy!