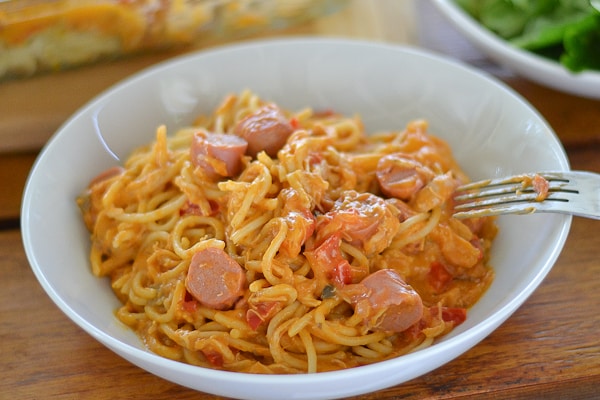 I learned about this dish from my sister's friend when he brought it to her place on a New Year's Eve potluck dinner party. It was so good, I asked for the recipe. With some few changes, I was able to produce this creamy and delicious baked chicken spaghetti. In this recipe, I used store bought rotisserie chicken meat because I find it more flavorful and of course economical. Just like other spaghetti recipes, the pasta noodles and sauce were cooked separately. But instead of tossing them together, they were assembled in layers in a casserole dish, sprinkled with grated cheese and then baked. The result was this dish that is not only pleasing to the eye (gooey) but also to the taste buds (yummy). I am glad I made a big batch; I was able to share it with some relatives.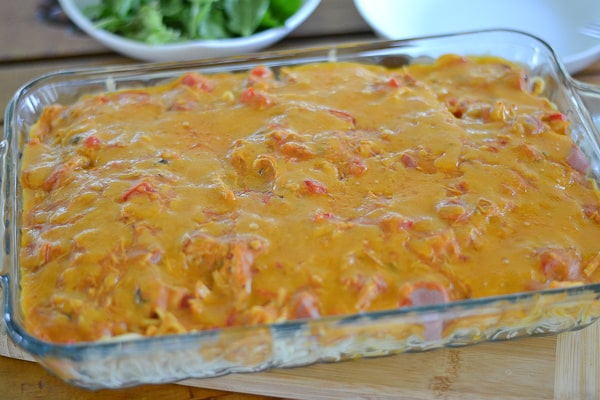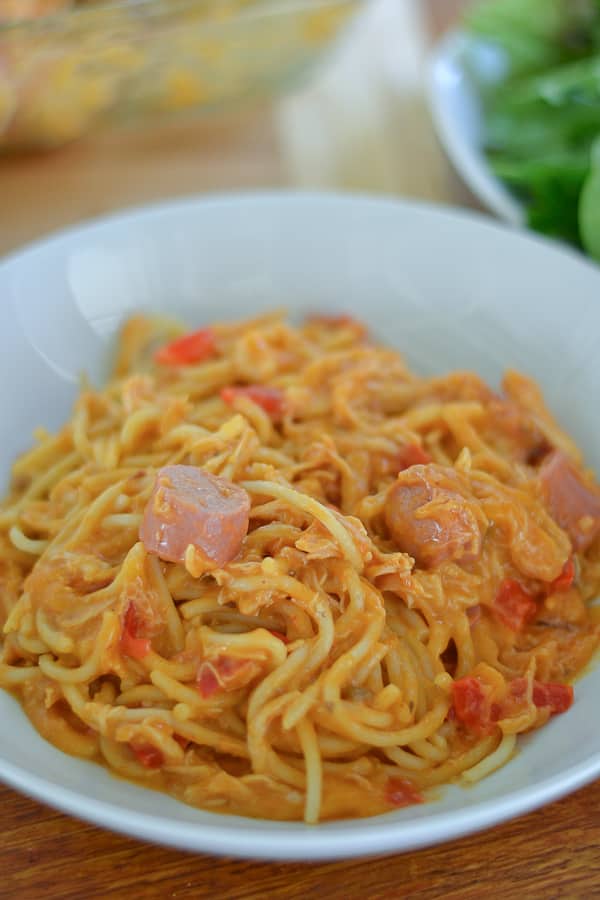 Baked Chicken Spaghetti
Ingredients
2 tbsp olive oil
1 clove garlic, minced
1 shallot, finely chopped
2 cups shredded rotisserie chicken meat or boiled chicken meat
1 cup tomato sauce
1 red bell pepper, diced
1 (10 oz) can cream of mushroom soup
1 (10 oz) can cream of chicken soup
½ cup water
Salt and pepper to taste
1 lb spaghetti, cooked according to package directions
2 cans Vienna sausage, drained and sliced
1 cup grated cheddar cheese
Instructions
Heat olive oil in a large sauté pan over medium-high heat. Add garlic and shallot and sauté for 1 minute. Add chicken meat and continue sautéing for another minute.
Add red pepper and tomato sauce; stir to combine and then let simmer at low temperature for 10 minutes.
Add cream of mushroom sauce, cream of chicken soup and water; let simmer for 10 more minutes. Correct seasoning with salt and pepper. Set aside.
Spread cooked spaghetti in bottom of 9X13 inch casserole dish. Next layer it with the sliced sausages and then pour chicken mixture evenly over the top. Sprinkle top with grated cheese.
Bake in preheated 350°F oven for 10 minutes or until cheese has melted. Serve with garlic bread or salad.
Enjoy!