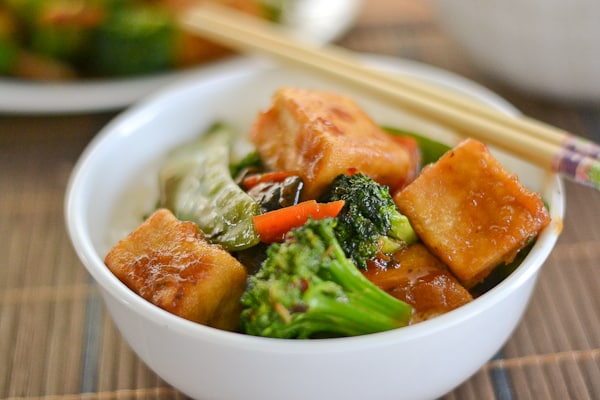 Tofu is one food item my family and I can't get enough of. Soft, medium or firm, we like tofu in a soup, in ukoy (Shrimp Fritters) or just fried with chili sauce. In this recipe, the tofu was simply stir-fried in a sweet and spicy sauce along with some vegetables. I like this recipe because of its flexibility with regards to how spicy you like your sauce to be, as well as what vegetables you want to use. This vegetarian dish is not only healthy but also full of texture and flavors. Love it!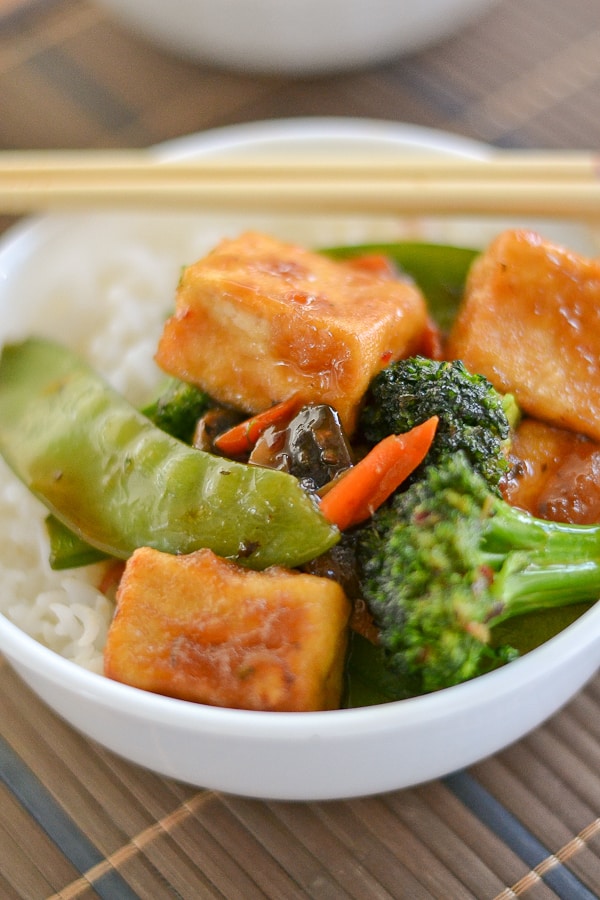 Vegetable Stir Fry with Sweet and Spicy Tofu
Ingredients
14 oz firm tofu, cut into 1-inch cubes
½ cup cornstarch
½ cup vegetable oil
1½ lbs mixed vegetables (broccoli, snow peas, red bell pepper, mushroom or any of your fave veggie), cut into bite-sized pieces
Sauce
¼ cup honey
3 tbsp soy sauce
1 tbsp or more of Asian chili-garlic sauce
1 tbsp grated fresh ginger
1 tsp cornstarch
Instructions
Place tofu on paper towel-lined plate and let drain for 15 minutes. In a bowl, whisk together ingredients for sauce. Set aside.
Spread ½ cup cornstarch in shallow dish. Pat tofu dry with additional paper towels and dredge in cornstarch, shaking off excess.
Heat oil in 12-inch non-stick skillet over medium heat. Cook tofu, turning occasionally, until golden brown and crisp, 6 to 8 minutes. Transfer to a plate lined with paper towels.
Pour off all but 1 tablespoon oil from skillet. Add mixed vegetables and cook until softened, about 5 minutes. Add tofu, then stir in honey mixture and cook until slightly thickened, 1 to 2 minutes.
Serve and enjoy!
Notes
Recipe source: America's Test Kitchen: The Best Simple Recipes.