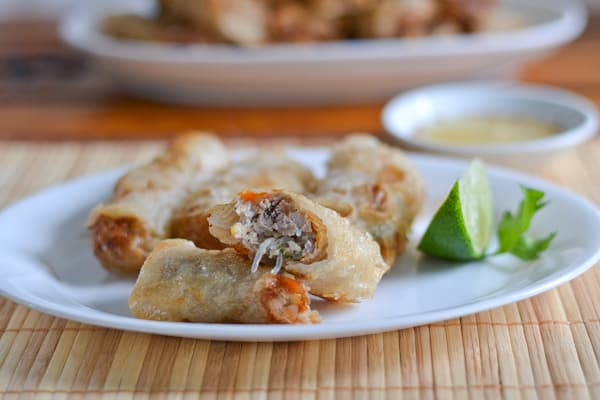 During these cold winter days, my family loves to have Pho (Vietnamese noodle soup). Every time we go to the Vietnamese restaurant to have Pho, we always order the spring rolls as well. My family loves these rolls so much and I tried to make it several times at home.
Vietnamese spring rolls are appetizers filled with ground pork, vegetables and vermicelli noodles. They are wrapped and then deep fried. They are often served with Nuoc Cham, a Vietnamese dipping sauce. I used to make the rolls with spring roll pastry but for this recipe I used rice paper wrappers instead. Although both are crispy and delicious, I found the rice paper wrapper has a sticky texture to it.  If you do not prefer a sticky texture use the spring roll pastry instead.

Vietnamese Spring Rolls
Ingredients
1 lb. Lean ground pork
2 oz dried bean thread vermicelli
2 tablespoons black fungus
1 shallot, minced
¼ cup chopped green onions
¼ cup shredded carrots
1 tablespoon fish sauce
½ teaspoon freshly ground pepper
1 egg
20 rice paper wrappers
Oil for deep frying
Instructions
Place the vermicelli and fungus in separate heat proof bowls. Cover with hot water and soak for 10 minutes or until soft.
Drain both; chop the fungus roughly and cut the vermicelli into 2-inch lengths with a sharp knife or scissors.
In a bowl, combine the pork, vermicelli, fungus, shallot, green onions, carrots, fish sauce, pepper and egg. Set aside.
Using a pastry brush, coat both sides of each paper wrapper liberally with water. Allow to stand for 2 minutes or until they become soft and pliable.
Place 1 heaping tablespoon of the filling along the base of a wrapper. Fold in the sides, roll the wrapper up tightly. For detailed steps on how to wrap spring rolls, click here. Repeat with the remaining wrappers and filling.
Press the rolls with paper towels to remove any excess water.
Heat 2 inches oil in a pan over medium heat, add spring rolls in batches and cook for 3-5 minutes or until golden brown. Drain on paper towels.
Serve with Nuoc Cham. For the Nuoc Cham recipe, click here. Enjoy!
Notes
This recipe was adapted from the cookbook "The Essential Asian Cookbook".