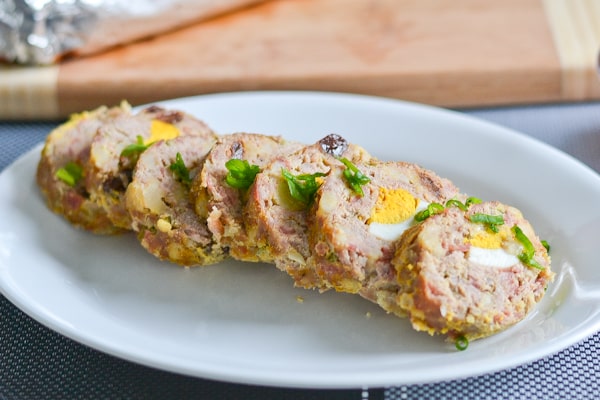 It is three days before Christmas, and it reminds me of Christmas time in the Philippines. There are some Christmas traditions that I truly miss.  I miss the simbang gabi (morning mass) that I used to go to for nine mornings. I miss all the good foods that we usually have at this time of the year. Some of my favorites are bibingka, puto bumbong, leche flan, baked ham and embutido.
Embutido is made of ground pork mixed with chorizo, relish, eggs, onions and breadcrumbs. It is wrapped with foil and then either steamed or baked. Filipinos love to serve this dish on Christmas Eve or Noche Buena.
Happy holidays everyone! 😀
Embutido (Filipino Style Meatloaf)
Ingredients
2 lbs. lean ground pork
½ cup fresh bread crumbs soaked in ¼ cup milk
1 chorizo (or 4 oz. pepperoni), finely chopped
2 eggs slightly beaten
¼ cup sweet relish
¼ teaspoon pepper
1 small onion, finely chopped
2 teaspoons salt
2 tablespoons raisins (optional)
2 hard boiled eggs, quartered (8 slices)
2 tablespoons softened butter
Instructions
Preheat oven to 350°F.
Thoroughly combine all ingredients except cooked eggs and softened butter.
Butter the center of a 12" X 18" piece of heavy duty aluminum foil.
Spread half of the pork mixture on buttered foil making a rectangle about 8"X10".
Arrange 4 slices of eggs in a row at the center, lengthwise.
Roll meat around eggs and wrap with the foil sealing the edges securely.
Do the same thing with the remaining half of the pork mixture, making two rolls in total.
Bake in a pan for 1 ½ hours. Let rest for 15 minutes before unwrapping. Slice crosswise.
Serve either cold or pan fry until golden brown.
Enjoy!
Notes
This recipe was adapted from the cookbook "Filipino Cooking Here & Abroad"