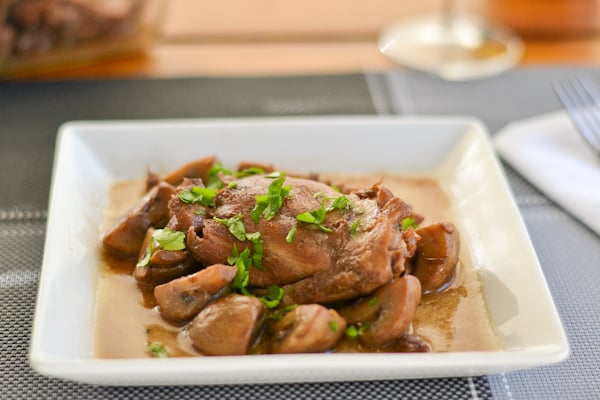 I stumbled upon this dish when I was browsing online for a chicken recipe while on my lunch break at work the other day. It caught my attention because it has a few ingredients and easy cooking instructions to follow.  Furthermore, it is a kind of dish that I know for sure my family would love. Except for the mushrooms, I know I have every ingredient at home, including the chicken thighs that I pulled out from my freezer before I left for work that morning. So, on my way home that day I dropped by the local grocery store and bought some mushrooms. In this recipe, the chicken pieces were browned first and then braised with mushrooms and red wine for 45 minutes. The chicken pieces turned out tender, delicious and very flavorful.  This dish is a hit with my family. I am pretty sure it will be with your family too!

Chicken and Mushroom Stew
Ingredients
5 tablespoons olive oil
7 chicken thighs
1 lb mushrooms, cut in halves or quarters, depending on the size
1 onion, sliced
1 cup chicken stock
1 cup red wine
Sea salt and freshly ground pepper to taste
Instructions
Season chicken pieces with sea salt and ground pepper.
Heat the olive oil in a Dutch oven or a large pan over medium high heat. Add the seasoned chicken pieces and brown on both sides. Brown in two batches, if needed. Transfer to a plate and set aside.
Drain some of the oil from the pan and put back the pan on the heat. Add the sliced onion and mushrooms. Cook until the mushrooms begin to release their juices and they start to become golden brown, around 2-3 minutes.
Return the browned chicken (plus juices) into the pan; add stock and wine. Bring to a slow simmer. Lower the heat, cover and simmer slowly until the meat is very tender, about 45 minutes.
Transfer to a serving plate and serve.
Enjoy!
Notes
Recipe adapted from Chef Michael Smith.
http://salu-salo.com/chicken-and-mushroom-stew/