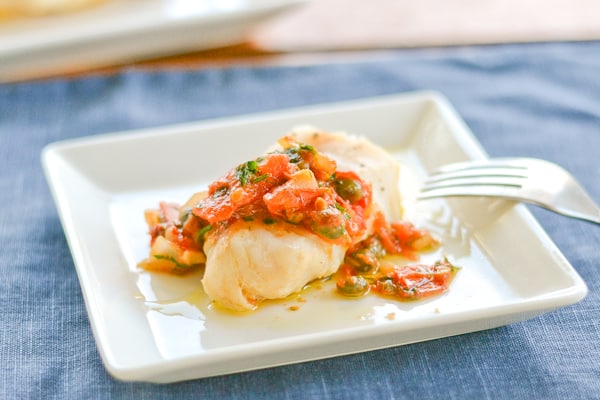 I love this "America's Test Kitchen" cookbook that I bought recently. All the recipes I've tried so far were delicious and easy to follow.  This fish recipe is no exception; it is one of those dishes that have been enjoyed by my family. The fish was simmered and cooked over a bed of chopped tomatoes and fresh herbs, resulting in a dish that was full of intense flavor. It was a light and refreshing meal to have on a hot summer day like we are having here in Vancouver.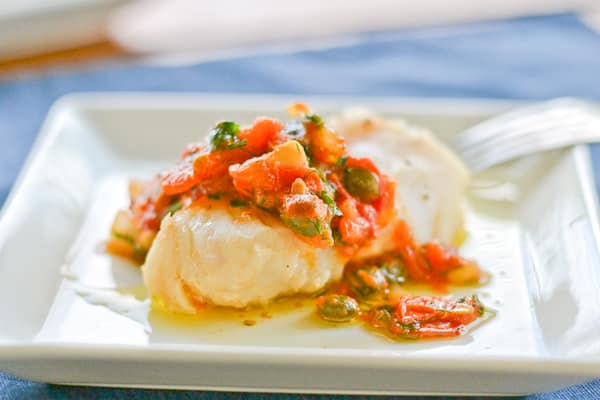 Cod with Herbed Tomato Caper Compote
Ingredients
4 (6-8oz) skinless cod fillets
Salt and pepper
3 tablespoons extra virgin olive oil
1 onion, chopped
3 garlic cloves, minced
3 tomatoes, cored and chopped
3 tablespoons capers, rinsed
3 tablespoons minced fresh dill
3 tablespoons minced fresh parsley
2 tablespoons minced fresh tarragon
Instructions
Heat 1 tablespoon oil in 12-inch skillet over medium high heat. Add onion and cook until softened, about 4 minutes. Add garlic and cook until fragrant. Stir in tomatoes and capers and cook until flavors blend, about 1 minute.
Season cod pieces with salt and pepper. Lay cod on top of tomato mixture. Cover, and cook for 6 to 8 minutes or until fish flakes easily with a fork. Transfer to a plate. Simmer tomato mixture, uncovered until liquid is reduced in half, about 3 minutes.
Stir in dill, parsley, tarragon and remaining 2 tablespoons oil and season with salt and pepper to taste. Spoon tomato mixture over cod and serve.
Enjoy!
Notes
Recipe source: America's Test Kitchen: The Best Simple Recipes.