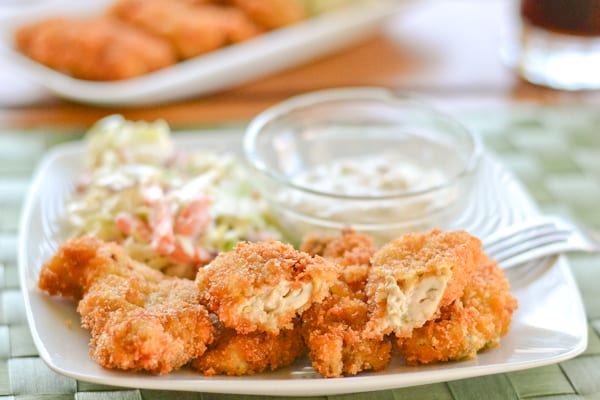 I made these deep fried oysters to go with the creamy coleslaw I made couple of days ago.  I found the recipe online and the batter was similar to the crispy fish sticks I shared here on my blog two weeks ago. This recipe is the Japanese way of coating and frying oysters. The tartar sauce that goes with it is quite different from what I made. Both have mayonnaise and dill pickles but this recipe uses onion, lemon juice, parsley and chopped hard-boiled egg instead of just pickle juice and capers. I like both versions; it is nice to have more than one recipes to choose from. 😀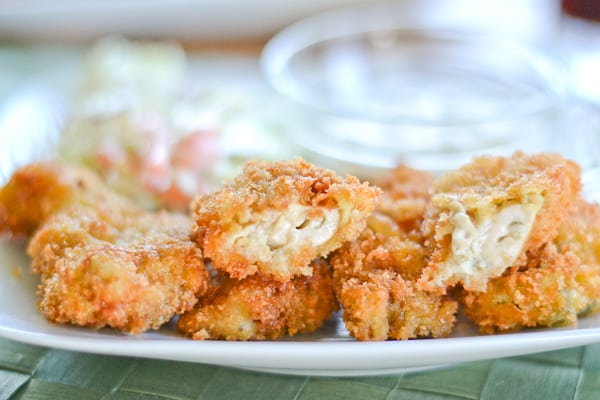 Deep Fried Oysters
Ingredients
1 (32 oz) jar oysters, rinsed and drained
Salt and pepper
½ cup flour
2 beaten eggs
1 ½-2 cups Panko breadcrumbs
Vegetable oil for frying
Tartar sauce
½ cup mayonnaise
1 small onion, minced
2 dill pickles, chopped
1 hard-boiled egg, chopped
1 tablespoon lemon juice
1 tablespoon chopped parsley
Salt and pepper to taste
Instructions
Combine all ingredients for the tartar sauce. Mix well and set aside.
Spread flour on shallow dish. Beat eggs in second shallow dish. Spread Panko bread crumbs in third shallow dish.
Pat oysters dry with paper towels and sprinkle with salt and pepper. Working with 1 oyster at a time, dredge oyster in flour, dip in egg mixture, and then coat with breadcrumbs, pressing gently to adhere. Transfer breaded oyster to plate.
Heat the oil in a 12-inch non-stick skillet over medium heat. Fry the breaded oysters until deep golden and crisp. Drain on paper towel-lined plate.
Serve with tartar sauce and creamy coleslaw on the side.
Enjoy!
Notes
Recipe adapted from Ochikeron.