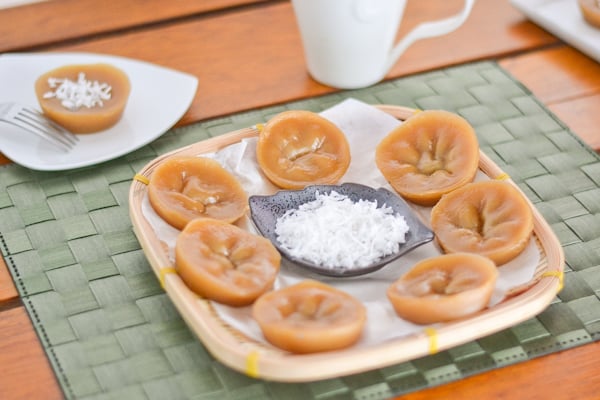 I finally got hold of a copy of "Goldilocks Bakebook". Goldilocks, for those who have not heard of them, is a popular Filipino bakery.   A big thank you goes to my niece who bought me a copy when she visited the Philippines last month. I browsed through the cookbook and I came up with a list of recipes I want to try, most of which are my favorite snacks and cakes when I was growing up. This will definitely keep me busy for the next few weeks.
The first recipe I tried was kutsinta, a sticky brown cake made from tapioca starch, flour, white and brown sugar. Like puto, it is a popular snack amongst Filipino. It is a common sight on the buffet table during holiday season, birthdays or just any gatherings or salusalo.
One challenge I encountered in making this cake was finding molds that would fit in my bamboo steamer. I ended up using a 6-cups muffin tin as molds and a 12-inch pan as a steamer. Use your creativity; feel free to use any molds that you can find. One thing is for sure, I don't have to buy kutsinta anymore; I can make it at home.