Ever since I shared this orange chicken recipe a few years ago, it has always been a favorite in my household. That dish inspired me to create this new recipe that is similar to the orange chicken dish. This orange sriracha chicken dish is baked and not fried so it is a little bit healthier. The sauce is made from a mix of orange juice, cider vinegar, garlic, sugar, and sriracha. The addition of the sriracha adds a nice kick to the dish. Overall, I was happy with the way that the dish turned out. It is sweet, salty, tangy and spicy. So good!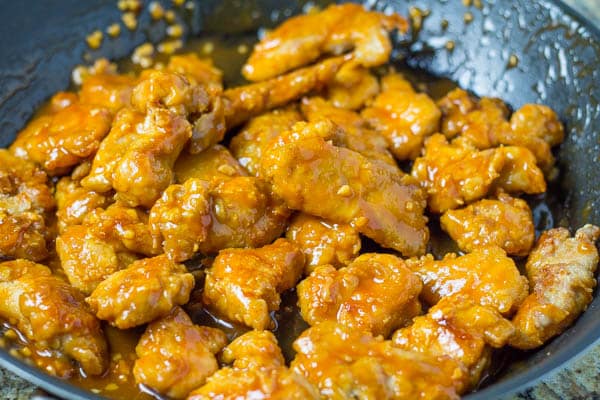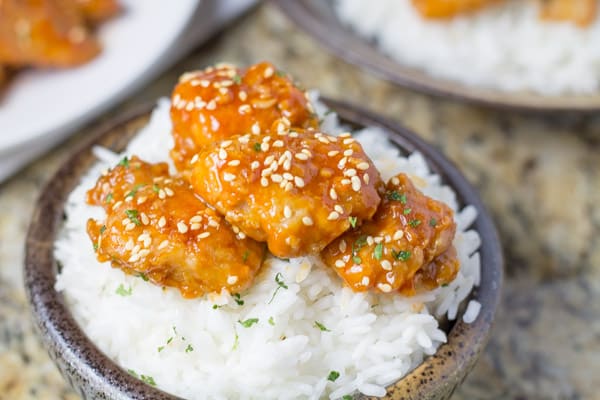 Baked Orange Sriracha Chicken
Ingredients
1 lb boneless, skinless chicken thighs, cut into bite sized pieces
1 ½ cup all purpose flour
3 tbsp of vegetable oil
Salt to taste
Marinade
1 tablespoon soy sauce
1 tablespoon Chinese rice wine or dry sherry
1 egg white
Sauce
⅓ cup orange juice
¼ cup chicken stock
1 tablespoon cider vinegar
1 ½ tablespoons soy sauce
1 teaspoon sesame oil
2 tablespoons brown sugar
2 tablespoons of Sriracha
1 garlic clove, minced
1 teaspoon cornstarch, dissolved in 1 tablespoon water
Instructions
Preheat oven at 375°F.
In a large bowl, combine the 1 tablespoon soy sauce, rice wine and egg white. Add the chicken pieces and stir to coat. Let stand for 10 minutes.
Prepare the sauce by combining the orange juice, chicken stock, cider vinegar, soy sauce, sesame oil, brown sugar, and Sriracha. Set aside.
Heat 1 teaspoon olive oil in a saucepan over medium heat and sauté the garlic for 1 minute. Add the sauce, bring to a boil, reduce the heat and let simmer for 5 minutes. Stir in the cornstarch and water mixture until the sauce thickens. Season with salt. Remove from heat and set aside.
Spread the 1 ½ cups flour in a large bowl. Toss the marinated chicken in the cornstarch and shake off any excess flour.
Place the chicken on lightly oiled non-stick baking sheet. Bake for 25-30 minutes, flipping the pieces half way through the cooking time.
Stir in the fried chicken pieces to the orange sriracha sauce. Mix until well coated. Transfer to a plate and serve.