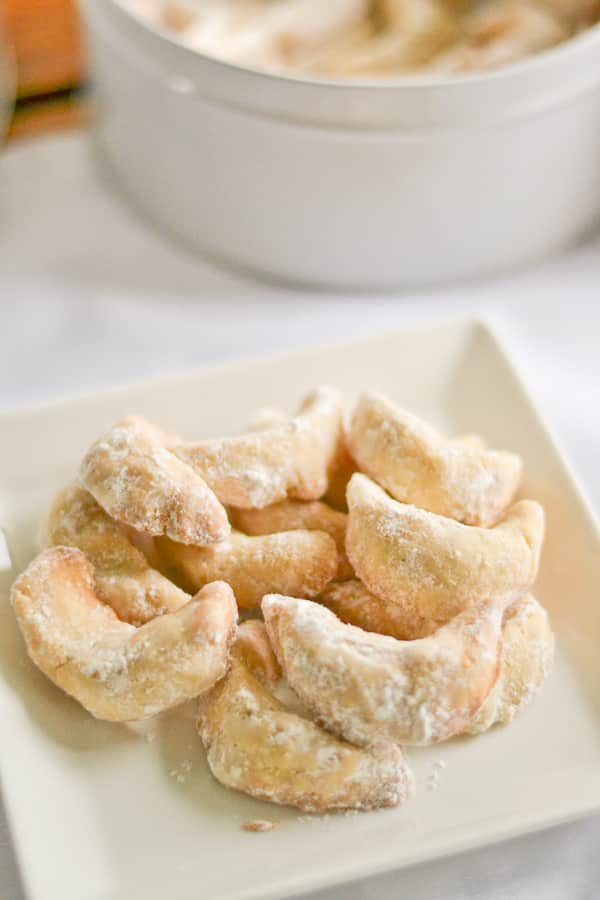 Every Christmas Eve, my family gets together. We share good food, good stories and laughs. This year, I am bringing these Almond Crescent Cookies. I first had the idea of making these cookies when I stumbled upon it in our local newspaper. I mentioned these cookies to my co-worker who ended up making the Austrian version called "Vanillekipferl". Those cookies were very scrumptious and motivated me even more to make these Almond Crescent Cookies. I originally intended to make these using  hazelnuts, but after searching many stores, I was unable to find it. I ended up using almonds, and it turned out great. I enjoyed these cookies so much and I hope my family and friend will too. Happy Holidays everyone!

Almond Crescent Cookies
Ingredients
1 cup butter, softened
½ cup icing sugar
2 tsp vanilla extract
2 cups all-purpose flour
½ tsp salt
1 ½ cups ground almond
Coating
6 tbsp icing sugar
1 ½ tsp vanilla sugar
Instructions
Preheat oven to 325°F. Line two baking sheets with parchment papers.
In a large bowl, cream butter, gradually add ½ cup icing sugar and beat until light and fluffy. Add vanilla extract.
In a medium bowl, sift together flour and salt , add ground almond and add to creamed mixture. Using 1 tbsp of the dough for each cookie, shape into crescents. Place on prepared baking sheets and bake for 25 minutes or until light golden brown.
Combine 6 tbsp icing sugar and 1 ½ tsp vanilla sugar and toss to mix. While still warm, carefully remove cookies from the baking sheet and dip in vanilla sugar to coat.
Let cool completely on racks and store cookies in an airtight container.
Notes
Recipe slightly adapted from "Canadian Christmas Cooking: The Classic Guide to Holiday Feasts".