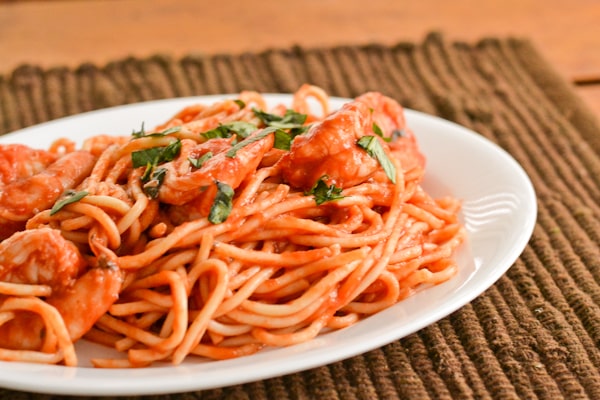 Here is another one that is a simple and delicious spaghetti dish that I made recently. Typically I make a spaghetti dish consisting of a sauce made of Italian sausage, marinara sauce and basil. This time, I decided to try a very different spaghetti dish. This one required me to boil the shrimp shells with garlic, onions, celery and white wine to create the flavorful shrimp stock that went into this spaghetti sauce. Then, the shrimp meat is added. The result was a spaghetti dish like no other I have ever tasted. The shrimp stock added so many flavors to the dish and I would definitely make it again.

Spaghetti with Shrimp
Ingredients
Kosher salt
2 cups simple tomato sauce
¼ lb spaghetti
1 ½ lbs fresh shell-on large shrimps, peeled and deveined
2 tablespoons chopped fresh basil
Freshly ground pepper
Extra-virgin olive oil for drizzling
Shrimp stock
2 tablespoons olive oil
Shells from shrimps
1 clove garlic
1 small onion, peeled and quartered
3 celery ribs, cleaned and chopped
½ cup white wine
Instructions
In a medium saucepan, heat the olive oil over medium heat. Add shrimp shells and garlic and sauté for 2-3 minutes, or until the shells turn pink. Add onion, celery and wine, and bring to a boil. Add water to cover, bring to a boil, and simmer for 20-30 minutes to get the flavor out of the shells. Strain, pressing on the shells. Set aside.
Set a pot of salted water to a boil. Add pasta and cook until al dente. Drain and set aside.
In a deep sauté pan, combine tomato sauce and 1 cup of shrimp stock. Bring to a simmer over medium heat. Cook for 10 minutes. Add shrimps and simmer just until pink, 2-3 minutes. Add spaghetti to the shrimp and sauce, along with the basil. Season to taste with salt and pepper.
Serve and enjoy!
Notes
Recipe slightly adapted from Ethan Stowell as featured in "Enjoy Cooking: The Costco Way".