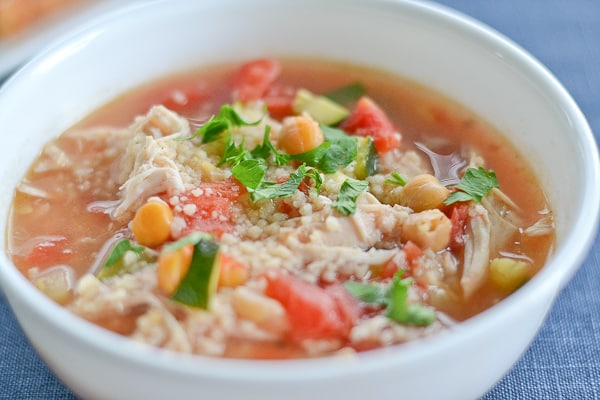 It has been rainy and gloomy these last two days here in Vancouver. Soup is the preferred meal to have on such cold dreary days. One soup I made during the week was this Moroccan chicken soup I found on the "America's Test Kitchen" cookbook I bought few weeks ago. It was simplified by using canned tomatoes and chickpeas as well as an already cooked rotisserie meat that was shredded. The zucchini and couscous give this soup a nice texture while the garam masala adds a wonderful taste and flavor to the soup. Overall, this chicken soup is delicious and very tasty as well as healthy. I will definitely make this soup again!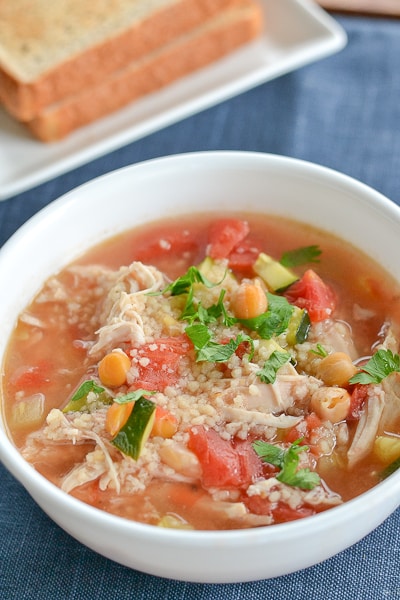 Moroccan Chicken Soup
Ingredients
1 tablespoon olive oil
1 onion, chopped fine
1 teaspoon garam masala
6 cups chicken broth
1 (14-ounce) can diced tomatoes
2 (14-ounce) cans chickpeas, drained and rinsed
1 zucchini, diced
½ cup couscous
1 (2 ½- pound) rotisserie chicken, skin and bones discarded, meat shredded into bite-size pieces (3 cups)
Salt and pepper
Instructions
Heat oil in Dutch oven over medium heat. Add onion and cook until lightly browned, about 5 minutes. Stir in garam masala and cook for 30 seconds.
Add broth and tomatoes and their juice, and bring to simmer. Stir in chickpeas, zucchini and couscous and cook, covered, until couscous is tender, about 8 minutes. Stir in shredded chicken meat. Season with salt and pepper.
Serve and enjoy!
Notes
Recipe adapted from "America's Test Kitchen: The Best Simple Recipes".