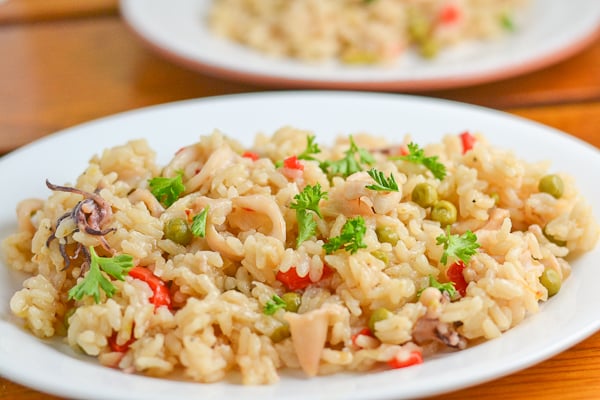 I learned about this rice dish while watching an episode of Rick Stein's Mediterranean Escapes. It caught my attention because of how simple it is compare to other rice dishes I know. There are only few ingredients and one of which is saffron, an ingredient that I have in my pantry and love to use whenever I can. My family and I love all kinds of seafood and rice dishes, so this recipe is just a perfect dish for us. I bought a pound of frozen squid and only used 6 pieces for this recipe. I was able to use the rest to make my hubby's favorite, squid adobo and was able to pack it for his lunch at work. This dish as expected turned out great, with a distinct seafood taste to it. You can simply enjoy this as a light meal or have it as a side dish with your favorite meat. Enjoy!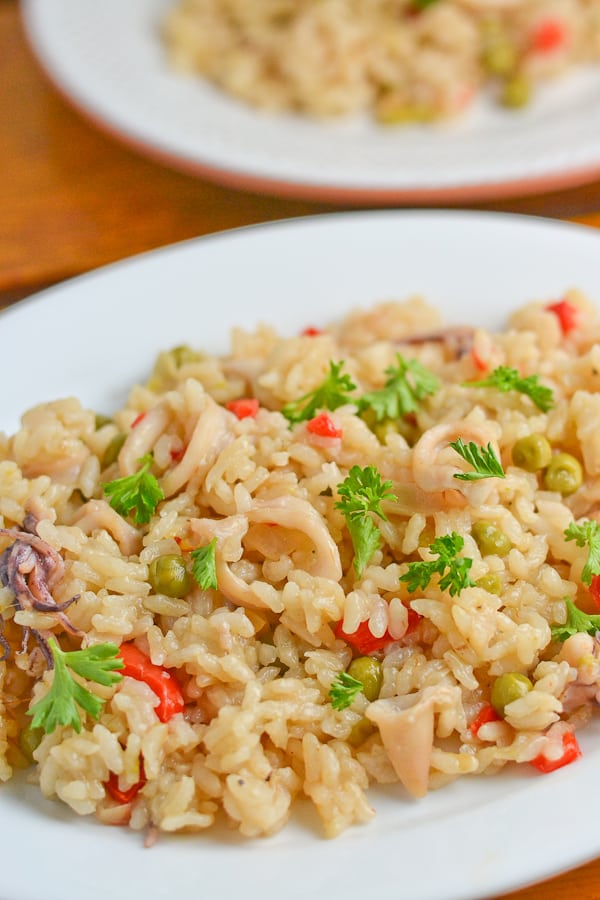 Arroz con Calamares (Rice with Squid)
Ingredients
5-6 small squid, cleaned
2 tbsp olive oil
1 onion, chopped
2 cloves garlic, chopped
½ red bell pepper, diced
2 cups of pearl rice (I used Japanese rice)
32 oz of fish or vegetable stock
A few threads of saffron
Salt and pepper to taste
½ of a 15 oz can of peas or ¾ cup frozen green peas, thawed (optional)
Instructions
Clean the squid thoroughly and cut into rings. Use the tentacles, but be sure to remove the eye.
Heat the oil in a heavy-bottomed large frying pan. Sauté the onion and garlic on medium heat. When the onion is golden, add the red pepper and continue to sauté, stirring often – about 5 minutes.
While the onion mixture is sautéing, heat the fish stock in a sauce pan, but do not boil.
Add the squid pieces to the onion mixture and sauté for 3-4 minutes. Add the rice to the frying pan and stir to coat rice with oil. Add more oil if needed and "toast" rice for about 2 minutes on medium heat, careful not to burn it.
Pour in fish stock, saffron and stir. Add salt and pepper to taste. Simmer until rice is cooked, around 15 minutes. Add peas after rice is cooked, if desired. Remove from heat, cover and let rest for about 10 minutes, stir and then serve.