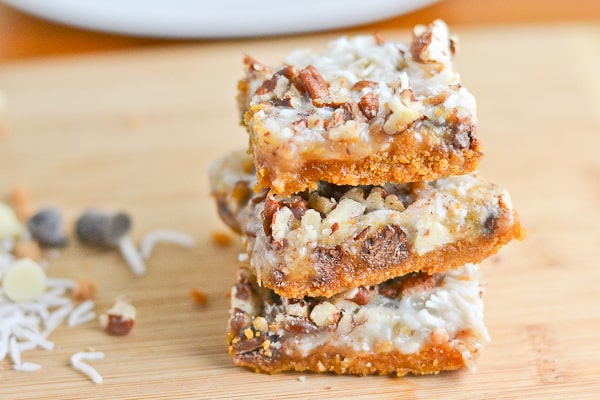 My co-worker brought these bars on treat day at work one day. Everyone who grew up here knows the name of these cookie bars. Apparently along with Nanaimo bars, these chocolate-coconut treats are quite popular. These bars are so rich and decadent, a small piece is enough to satisfy any sweet cravings you might have. I was hooked with these sweet, crunchy treats, so I decided to make them while I am still off from work. This recipe is so flexible, I was able to make used of some left-over baking ingredients that I have in my pantry and fridge. My family can't get enough of these wonderful treats. Indulge!

Magic Cookie Bars
Ingredients
1½ cups graham cracker crumbs
½ cup butter, melted
1 (14 oz.) can sweetened condensed milk
1 cup butterscotch-flavored chips (I used toffee bits)
1 cup semi-sweet chocolate chips (I used a mixture of semi-sweet and white chocolate chips)
1⅓ cups flaked coconut
1 cup chopped nuts
Instructions
Preheat oven to 350°F. Spray 13 x 9-inch baking pan with non-stick cooking spray.
Combine graham cracker crumbs and butter; mix well. Press crumb mixture firmly into bottom of prepared pan.
Pour sweetened condensed milk evenly over crumb mixture. Layer evenly with remaining ingredients; press down firmly with fork.
Bake 25 to 30 minutes or until lightly browned. Cool. Chill, if desired. Cut into bars or diamonds. Store covered at room temperature.