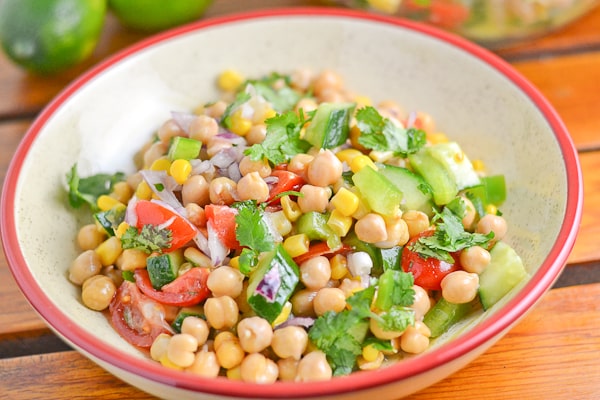 I have been having a great and worthwhile spring break so far. I have been catching up with some housework and doing lots of cooking and baking. I am also taking the time to take care of myself by relaxing and watching my favorite TV shows and reading books. Last but not the least, I am taking the time to exercise and stay active. I just recently bought a new cruiser bike and have been enjoying the nice weather riding with my husband. We are lucky to have a mild winter and with spring around the corner, we are planning to explore more trails and dykes in our area. Warmer weather means colorful salads. This salad recipe that I made is a perfect meal to have on a warm and sunny day. It has all my favorites; corn kernels, chickpeas, tomatoes, bell pepper, red onions and cucumber. This salad with the simple dressing is refreshingly good and healthy as well. Enjoy!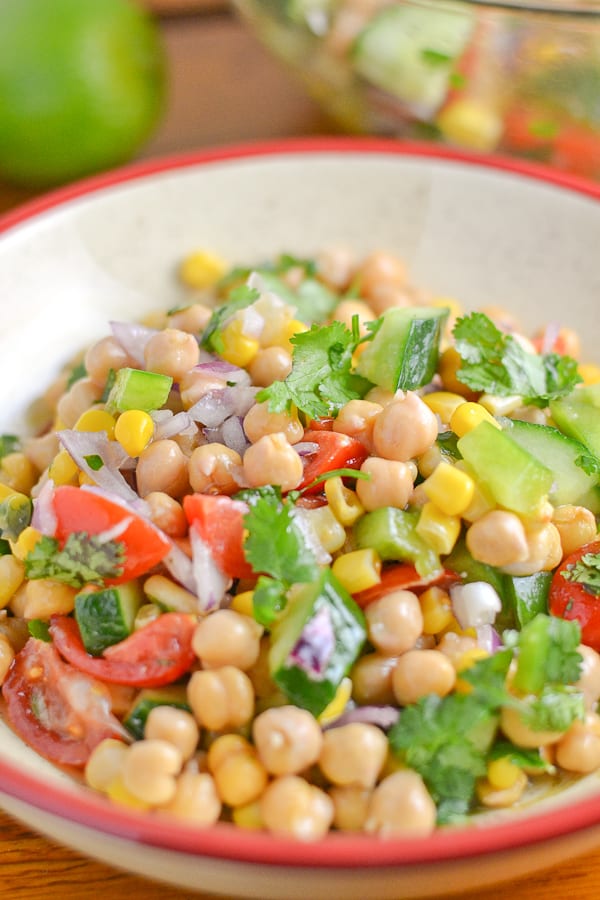 Corn and Chickpea Fiesta Salad
Ingredients
2 cups corn kernels
2 (540 ml) cans chickpeas, drained and rinsed
2 cups cherry tomatoes ( about 9 oz), halved or quartered (depending on the size)
1 green bell pepper, diced
1 small red onion, finely diced
1 English cucumber, diced
Dressing:
¾ cup extra virgin olive oil
¼ cup fresh cilantro, chopped
4 tbsp lime juice
1 clove garlic, minced
1 tsp salt
½ tsp pepper
Instructions
Combine all salad ingredients in a big bowl.
In a separate bowl, whisk together the dressing ingredients. Pour the dressing over the salad ingredients and stir until everything is mixed well.
Refrigerate until serving or at least for a half an hour to let the flavors blend.