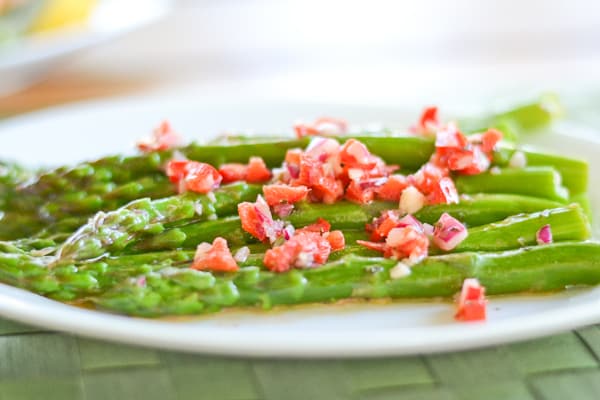 This recipe is a delicious and colorful way of dressing up plain steamed asparagus. It is not only an ideal side dish for any meat dish but the vinaigrette may be used on other vegetables like green beans and broccoli. I made this dish to go with the steaks I cook for my family.  I totally enjoyed this awesome asparagus with the tangy pepper dressing 😀

Asparagus with Red Pepper Vinaigrette
Ingredients
1 lb asparagus, trimmed
2 tablespoons extra-virgin oil
2 tablespoons red wine vinegar
¼ cup finely diced red bell pepper
2 tablespoons minced red onion
1 clove garlic, minced
1 teaspoon Dijon mustard
¼ teaspoon salt
¼ teaspoon pepper
¼ teaspoon dried tarragon
Instructions
In a large shallow bowl, whisk together oil, vinegar, red pepper, onion, garlic, mustard, salt, pepper and tarragon. Set aside.
In saucepan of boiling salted water, cover and cook asparagus until tender-crisp, about 2 minutes. Drain well.
Add the asparagus to the bowl of vinaigrette; turn to coat.
Transfer to a serving plate.
Enjoy!
Notes
Recipe source: Canadian Living