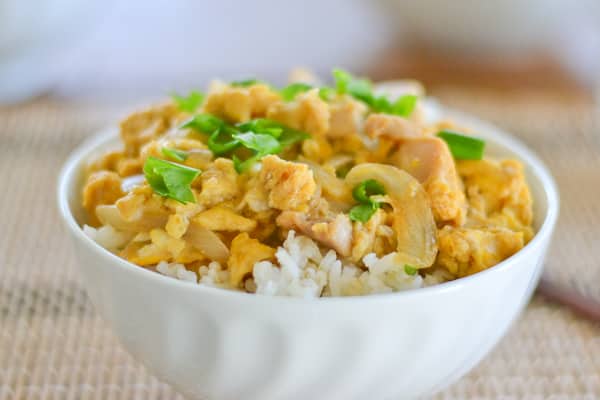 It's our last day in Calgary today. It has been a great week bonding with my husband and three sons. These are the times that I will remember and forever cherish. I am already looking forward to our next time together come Christmas time. For our last day here, my oldest son and I went to check out some food trucks in the downtown area. Alberta is famous for its beef, so we tried a food truck that served prime rib sandwiches and salads. We were not disappointed; it was delicious!
The recipe that I am sharing today is a popular Japanese rice bowl dish: chicken and egg donburi. Bite-sized pieces of chicken were cooked over a mixture of sweet sauce consisting of sake, soy sauce, sugar, mirin, onion and chicken broth and then beaten eggs were added to thicken the sauce. This dish is so simple and easy to make; an ideal dish to make after a long day at work. 😀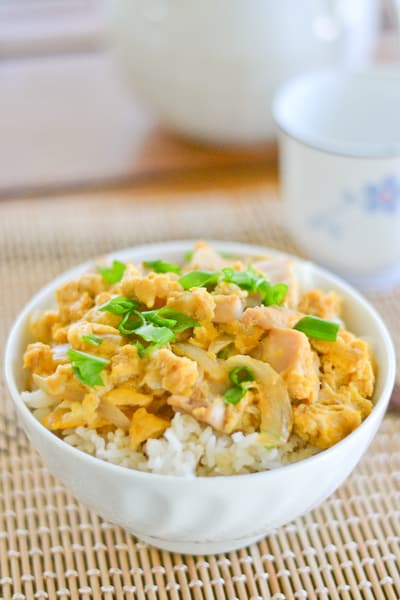 Chicken and Egg Donburi
Ingredients
½ lb boneless, skinless chicken thighs, cut into bite-sized pieces
3 eggs, lightly beaten
1 small onion, sliced thinly
1 green onion, thinly sliced
⅓ cup chicken broth
2 tablespoons cooking sake
2 tablespoons sugar
2 tablespoons mirin
2 ½ tablespoons soy sauce
Instructions
Put onion, chicken broth, sake, sugar, mirin and soy sauce in a skillet over medium- high heat and bring to a boil. Add the chicken thighs and onion and cook for 3-4 minutes or until chicken meat are cooked.
Pour the beaten eggs around and over the chicken and then cover with a lid. Simmer for about 30 seconds while shaking the pan. Cook the eggs to your desired firmness. Sprinkle with green onions and turn off the heat.
Serve over a bowl of rice.
Enjoy!
Notes
Recipe adapted from: Recipes of Japanese Cooking