This is the second General Tso's chicken recipe that I am sharing. The first one I shared a year and a half ago was a Martin Yan's recipe, where the chicken meat was fried. This recipe, a healthier version, bakes the chicken pieces instead and then tosses them with a sweet and spicy sauce.  The caramelized sugar that is added to the sauce gives the chicken pieces its beautiful golden color. I enjoyed these moist chicken strips with steamed rice. Delicious!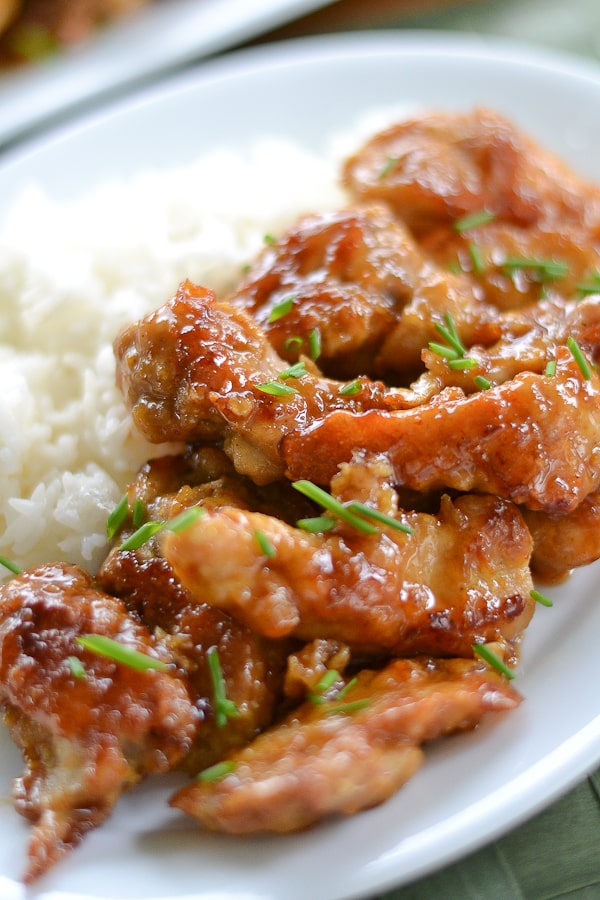 Baked General Tso Chicken
Ingredients
2-3 lbs boneless chicken thighs or breasts, cut in strips
2 eggs + 2 tbsp water whisked together to make an egg wash
1 cup flour
½ tsp black pepper
¼ tsp cayenne pepper
3 tbsp ground ginger
2 tsp salt
Sauce
4 tbsp soy sauce
4 tbsp rice wine vinegar
¼ cup water
2 tbsp sesame oil
2 tbsp hot chili sauce or to taste (I used Sriracha)
½ tsp salt
2 tsp corn starch
3 cloves minced garlic
3 tbsp freshly grated ginger
1 cup sugar
¼ cup water
Instructions
Preheat oven at 375°F.
In a shallow dish, combine flour, black pepper, cayenne pepper, ground ginger and salt. Dip the chicken pieces in the egg wash then dredge them in the flour mixture.
Place on lightly oiled non-stick baking sheet. Bake for 25-30 minutes, flipping the pieces half way through the cooking time. (I used 3 lbs chicken pieces and they did not fit in 1 baking sheet so I baked them in two batches)
In a small bowl, mix together soy sauce, rice wine vinegar, ¼ cup water, sesame oil, hot chilli sauce, salt, cornstarch, minced garlic and grated ginger. Set aside.
In a medium saucepan boil together the 1 cup of sugar and ¼ cup of water.
Boil this over medium heat, watching constantly until the caramel starts to turn a light amber color and you can begin to smell the caramel. When it reaches this stage, give the other ingredients in the bowl a quick stir to make sure the corn starch is dissolved then add it all at once to the hot caramel. (Careful: This mixture is very hot!) Be careful at this stage because this sauce can foam up considerably for a few seconds and it is very hot. Simmer for only few minutes and remove from the heat and allow to cool down slightly.
Toss the sauce with the cooked chicken pieces and serve over plain steamed rice or Chinese noodles.