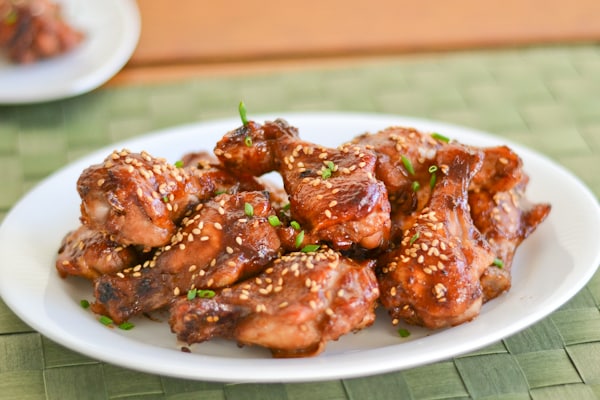 I decided to make these baked hoisin chicken wings because it has been a while since I posted a chicken wings recipe. It is not that I have not cooked chicken wings recently, it's because I have been preparing it the same way: fried. After making countless fried chicken wings meals, I thought maybe it was time to try something different. So, I wanted to try a different and healthier recipe. I chose these chicken wings because it is simple and easy to make. The wings were first marinated in a hoisin based sauce for an hour and then baked until they were brown and crispy.  My family love these delicious wings; I am definitely making them again.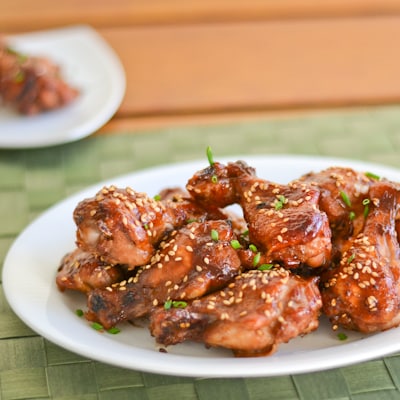 Baked Hoisin Chicken Wings
Ingredients
2 lbs chicken wings, drummettes and wingettes, separated
2 garlic cloves, minced
½ cup hoisin sauce
2 tablespoons rice vinegar
1 teaspoon sesame oil
1 teaspoon Chinese five-spice powder
I teaspoon cayenne pepper
¼ teaspoon salt
1 teaspoon sesame seeds (optional)
Instructions
In a large bowl, whisk together the garlic, hoisin sauce, rice vinegar, sesame oil, five-spice powder, cayenne, and salt. Add the wings and stir to coat. Cover with plastic wrap and let marinate in the fridge for an hour.
Preheat oven to 400°F. Line a large baking pan with aluminum foil.
Remove the wings from the marinade (save the marinade for basting) and arrange it in a single layer on the baking pan. Bake for 20 minutes.
Remove the baking pan from the oven, baste the wings with the leftover marinade, and sprinkle with the sesame seeds, if using. Return the wings to the oven and bake for another 15-20 minutes or until golden brown and crispy.
Transfer to a platter and serve.
Enjoy!
Notes
Recipe adapted from "The Chinese Takeout Cookbook".