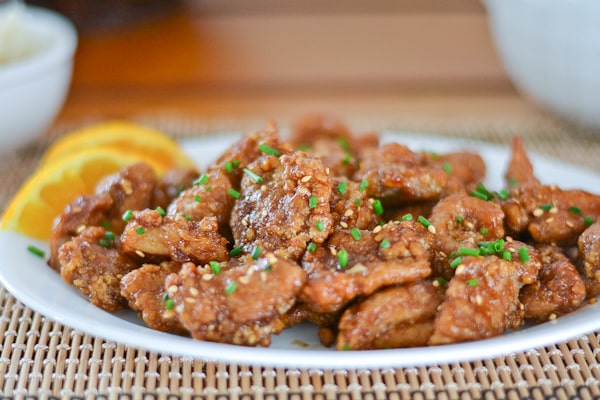 Yesterday was the first day of spring. It didn't feel like it though- I guess old winter decided to extend its stay. But today is a different day, it is sunny but still cold. I went for a morning walk and it was glorious listening to the birds singing. Flowering cherry trees with its pretty pink blossoms were a beautiful sight to see. I came home inspired and wrote this post on Chinese Orange Chicken.
Chinese orange chicken, just like lemon chicken, is a popular Chinese takeout dish. Pieces of bite-sized chicken are first marinated in soy sauce, rice wine and egg white. It is then fried and coated with sauce made of orange juice, cider vinegar, stock, brown sugar, soy sauce, sesame oil and orange zest.  It is crunchy, very tasty and delicious. My family can't get enough of it. I have already made it twice this week and I will make it again on Saturday when my 25 year old son from Calgary comes home for a visit 🙂

Chinese Orange Chicken
Ingredients
1 lb boneless, skinless chicken thighs, cut into bite sized pieces
1 ½ cup cornstarch
3 cups vegetable oil for frying + 1 teaspoon olive oil for sautéing
Salt to taste
Marinade
1 tablespoon soy sauce
1 tablespoon Chinese rice wine or dry sherry
1 egg white
Sauce
⅓ cup orange juice
¼ cup chicken stock
1 tablespoon cider vinegar
1 ½ tablespoons soy sauce
1 teaspoon sesame oil
2 tablespoons brown sugar
1 teaspoon grated fresh orange zest
1 garlic clove, minced
1 teaspoon cornstarch, dissolved in 1 tablespoon water
Instructions
In a large bowl, combine the 1 tablespoon soy sauce, rice wine and egg white. Add the chicken pieces and stir to coat. Let stand for 10 minutes.
Prepare the sauce by combining the orange juice, stock, cider vinegar, soy sauce, sesame oil, brown sugar and orange zest. Set aside.
Heat 1 teaspoon olive oil in a saucepan over medium heat and sauté the garlic for 1 minute. Add the sauce, bring to a boil, reduce the heat and let simmer for 5 minutes. Stir in the cornstarch and water mixture until the sauce thickens. Season with salt. Remove from heat and set aside.
Spread the 1 ½ cups cornstarch in a large bowl. Toss the marinated chicken in the cornstarch and shake off any excess before frying.
Heat the 3 cups oil in a wok or heavy-bottomed pot. Add 8-10 chicken pieces and fry until golden, around 4-5 minutes. Remove cooked chicken and drain on a plate lined with paper towels. Repeat with the rest of the chicken.
Reheat the orange sauce and stir in the fried chicken pieces. Mix until well coated. Transfer to a plate and serve.
Enjoy!
Notes
Recipe source: The Chinese Takeout
Check out some of my other Asian inspired chicken dishes.
Sticky Honey Sesame Drumsticks