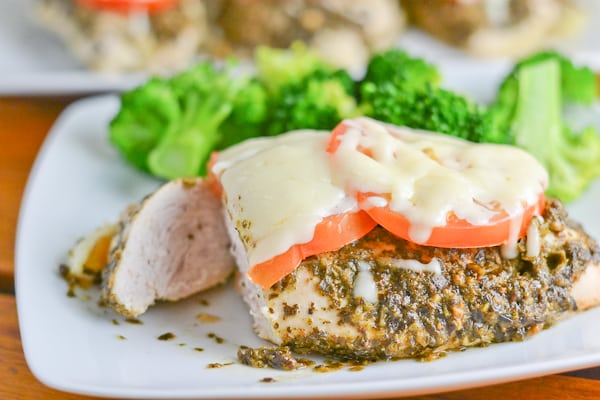 Early this year I made this delicious baked pesto chicken dish that my family loved so much. Since then I have been making it regularly and last weekend I decided to take it to the next level. For additional flavor and texture, I topped the baked pesto chicken with the dynamic duo of tomato and grated mozzarella cheese. The result was tasty chicken pieces topped with gooey, cheesy goodness. Yummy!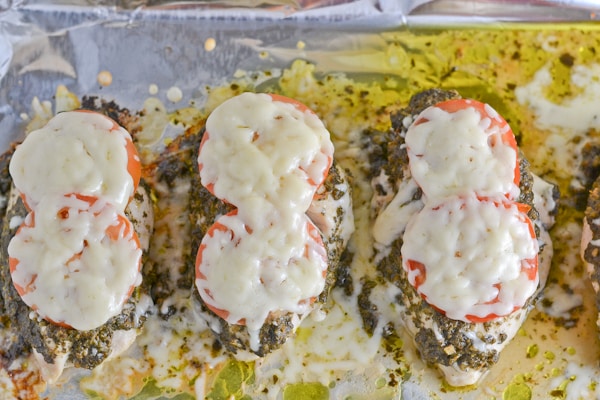 Baked Pesto Chicken with Tomato and Mozzarella Cheese
Ingredients
4 boneless, skinless chicken breast halves
½ cup basil pesto, homemade or store bought
2 medium tomatoes, sliced
1 cup grated mozzarella cheese
Instructions
Preheat oven to 400° F. Line baking sheet with foil.
Place chicken in a shallow dish. Add pesto and mixed thoroughly until chicken is fully coated with sauce.
Place chicken onto prepared baking sheet, making sure top of chicken is fully covered with sauce.
Bake for 25 minutes or until chicken is no longer pink in center. Remove sheet from oven; top each chicken with 2 slices of tomatoes and then sprinkle top with cheese. Bake for another 5 minutes or until cheese has melted.
Serve with your favorite salad or steamed vegetables.