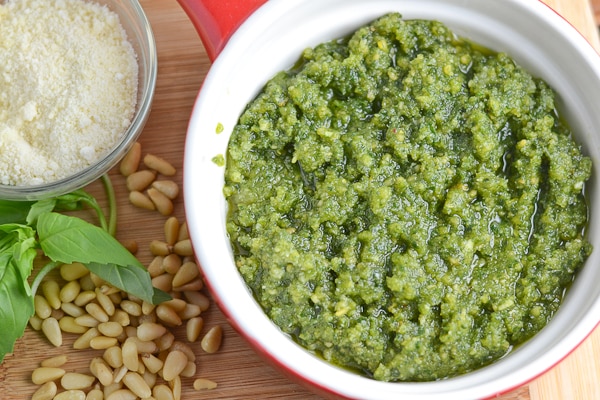 My youngest son used this pesto sauce recipe to dress up the pasta dish he had made over the Christmas holidays. It uses fresh ingredients and is so easy to make. A pinner on pinterest gave me an idea on how to use this recipe on chicken and I thought it was a brilliant idea. I decided to make it on the weekend and it turned out great. I am pretty sure I will be using a lot of this pesto sauce recipe in the future.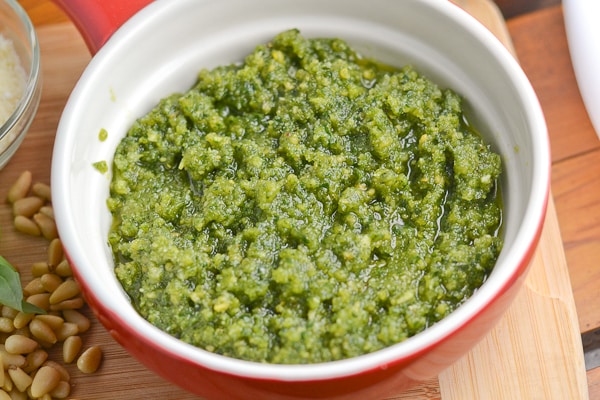 Homemade Pesto Sauce
Ingredients
1 large bunch fresh basil
2 cloves garlic, smashed and peeled
¼ cup pine nuts
½ cup extra-virgin olive oil
½ cup freshly grated Parmesan
½ teaspoon kosher salt, plus more for seasoning
Freshly ground pepper to taste
Instructions
Pluck basil leaves from stems (about 2 cups). Wash the leaves in a large bowl of cold water and dry in a salad spinner or pat dry with paper towels.
Put the basil, garlic, and pine nuts in a food processor and pulse until coarsely chopped. With the processor running, gradually add the olive oil and process until the pesto is smooth. Transfer the pesto to a large bowl and stir in the cheese. Season with salt and pepper.