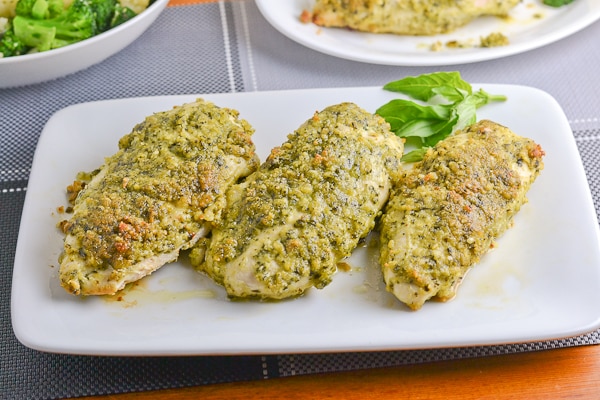 Over the weekend, I made this easy and yet delicious chicken dish for my family. The chicken pieces were simply coated with pesto sauce and then baked for 25 minutes. The freshly made pesto sauce was the star of this dish. It gave the chicken its tasty and wonderful flavor. The aroma that came out of the oven while the chicken was baking was amazing. My family and I enjoyed this appetizing pesto chicken with a serving of steamed rice and mixed vegetables. Love it!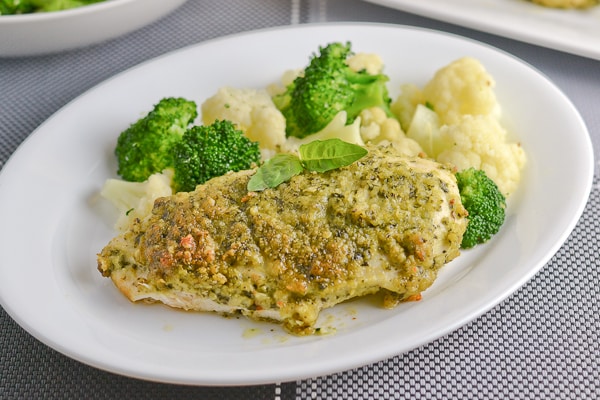 Baked Pesto Chicken
Ingredients
1 large bunch fresh basil
2 cloves garlic, smashed and peeled
¼ cup pine nuts
½ cup extra-virgin olive oil
½ cup freshly grated Parmesan
½ teaspoon kosher salt, plus more for seasoning
Freshly ground pepper to taste
4 boneless, skinless chicken breast halves
Instructions
Preheat oven to 400° F. Line baking sheet with foil.
Pluck basil leaves from stems (about 2 cups). Wash the leaves in a large bowl of cold water and dry in a salad spinner or pat dry with paper towels.
Put the basil, garlic, and pine nuts in a food processor and pulse until coarsely chopped. With the processor running, gradually add the olive oil and process until the pesto is smooth. Transfer the pesto to a large bowl and stir in the cheese. Season with salt and pepper.
Place chicken in a shallow dish. Add pesto and mixed thoroughly until chicken is fully coated with sauce.
Place chicken onto prepared baking sheet, making sure top of chicken is fully covered with sauce.
Bake for 25 minutes or until chicken is no longer pink in center.
Serve and enjoy!