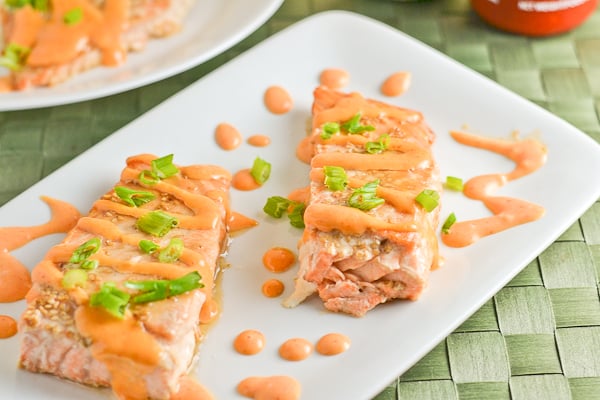 Here's another great salmon dish that I have made and enjoyed by my whole family. The salmon fillets were marinated in a homemade teriyaki sauce for at least half an hour and then baked until tender and succulent. The sriracha cream sauce that was drizzled over the baked salmon was comparable to the one served with sushi rolls at Japanese restaurants. The creamy sriracha sauce definitely makes this dish stand out. I already made this twice for my family and they loved it so much. This baked salmon with sriracha cream sauce is not only visually appetizing but also tastes fantastic. Enjoy!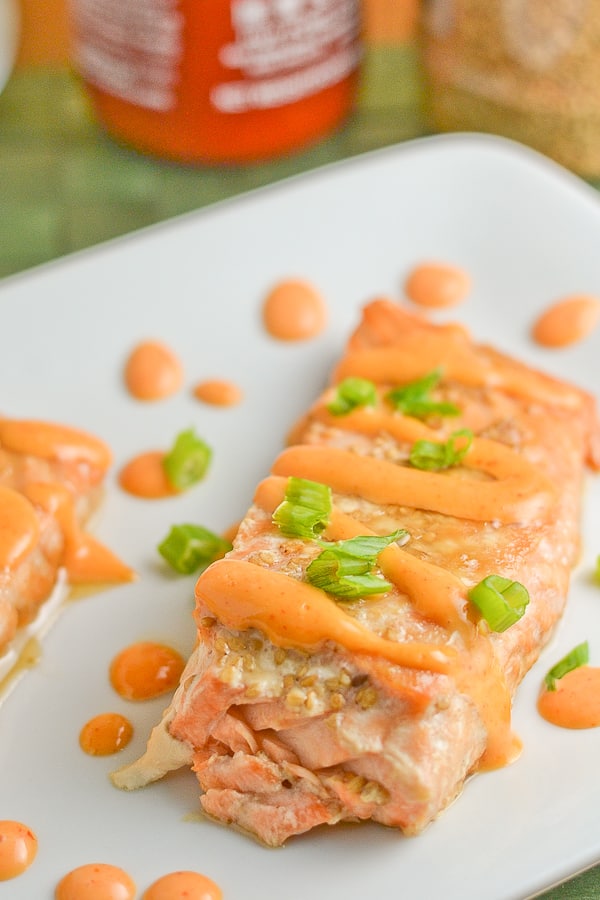 Baked Salmon Teriyaki with Sriracha Cream Sauce
Ingredients
1 tbsp cornstarch
¼ cup water
¼ cup soy sauce
¼ brown sugar, packed
1 cup pineapple juice
½ tsp ground ginger
¼ tsp garlic powder
2 tbsp honey
4 (8 oz) skinless salmon fillets
Sesame seeds
Chopped green onions
For Sriracha cream sauce
½ cup mayonnaise
1½ tbsp sweetened condensed milk
1-2 tbsp sriracha hot chili sauce or more to taste
Instructions
In a small bowl, whisk together cornstarch and ¼ cup water; set aside.
In a small saucepan, combine soy sauce, brown sugar, pineapple juice, ground ginger, garlic powder and honey. Bring to simmer over medium heat. Add cornstarch mixture and simmer, stirring until sauce thickens to coat back of spoon. Remove from heat and let cool.
Transfer cooled teriyaki sauce to container or Ziploc bag; add salmon fillets. Cover or seal and then refrigerate for at least 30 minutes or overnight.
Preheat oven to 400°F. Line baking sheet with aluminum foil and spray with non-stick cooking spray.
Remove salmon fillets from marinade and place onto prepared baking sheet. Sprinkle each piece with sesame seeds. Cover with foil and bake for 20-25 minutes or until fish flakes easily with a fork. Remove foil and continue baking for another 5 minutes.
To make the sriracha cream sauce, whisk together mayonnaise and sweetened condensed milk. Add 1 tbsp sriracha hot sauce first and then add more until desired spiciness is reached. (I only used 2 tbsp).
Serve salmon drizzled with sriracha cream sauce and sprinkled with green onions.
Enjoy!