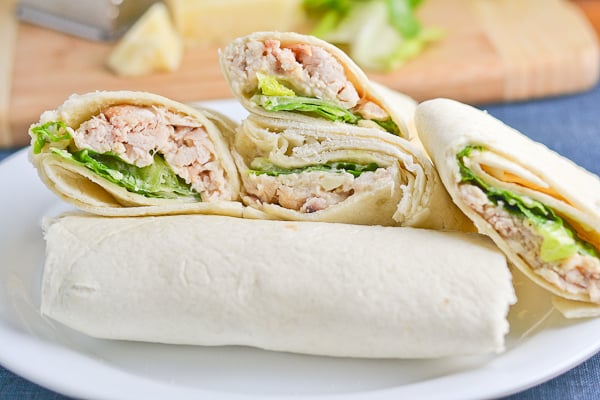 I made these salad wraps to use up left-over flour tortillas that I had from making chicken fajitas last week. It was incredibly easy to make.  There was no cooking required because I used store bought rotisserie chicken meat. In addition, it only took 15 minutes to make this simple and delicious meal. I did not have Parmesan cheese on hand, so I used Asiago cheese instead. I first warmed up each tortilla in the microwave for 10 seconds, filled it up with the chicken and lettuce mixture and then rolled into wraps. The homemade dressing was the star of this dish. The combined mixture of mayonnaise, grated asiago, lemon juice, Worcestershire sauce, Dijon mustard, grated garlic and olive oil was so good. It gave the chicken and lettuce so much flavor and texture. I will definitely use this salad dressing recipe again. Enjoy!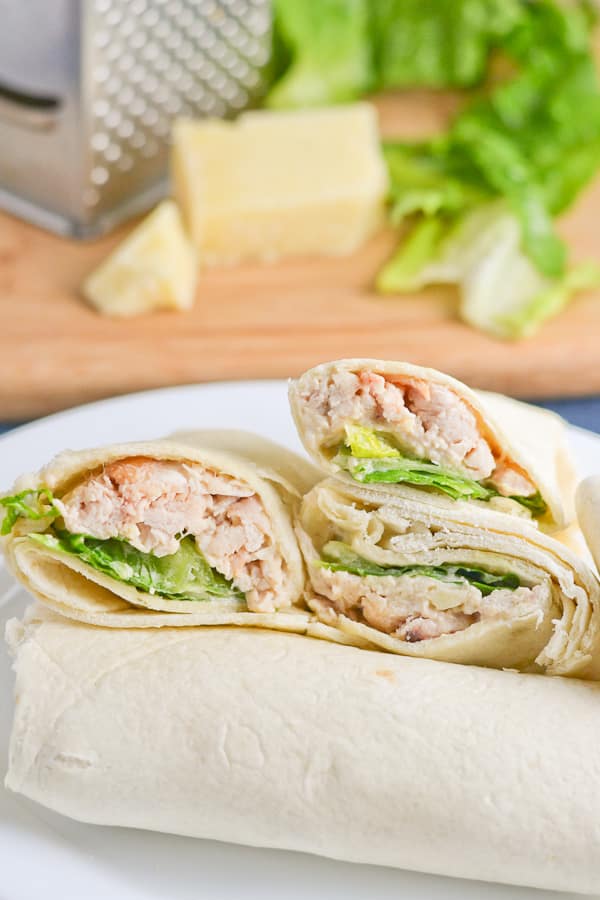 Chicken Caesar Salad Wrap
Ingredients
¼ cup mayonnaise
¼ cup grated Asiago or Parmesan cheese
2 tbsp lemon juice
1 tbsp Worcestershire sauce
1 tbsp Dijon mustard
1 garlic clove, grated
¼ cup olive oil
3 cups shredded rotisserie chicken meat
6 oz romaine lettuce, torn into bite-size pieces
4 (10-inch) flour tortillas
Instructions
In a bowl, whisk together mayonnaise, Asiago, lemon juice, Worcestershire, mustard and garlic. Gradually whisk in olive oil until thoroughly incorporated.
In a bowl, toss chicken with half of the dressing.
In another bowl, toss romaine with remaining dressing.
Warm tortillas one at a time in the microwave for 10 seconds. Add generous spoonfuls of chicken and top with the dressed lettuce mixture. Roll into wraps.
Serve and enjoy!
Notes
Recipe developed by Foxy Vegetables as featured on "Enjoy Cooking: The Costco Way" cookbook.