I love balsamic vinegar, so I knew immediately that I would enjoy this balsamic chicken thighs dish. In addition to the use of balsamic vinegar, this recipe caught my eye because it is simple, consists of few ingredients and easy to clean up. It is also a healthy dish since it uses skinless chicken thighs and other healthy ingredients.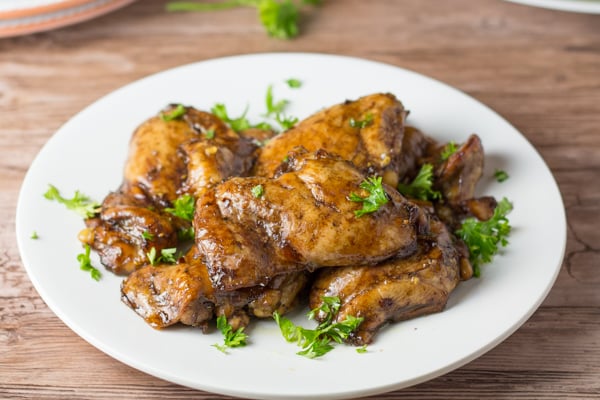 The preparation is as easy as it gets. All the ingredients, other than the chicken, are first combined into a Ziploc bag. Then, the chicken thighs are put in the bag and tossed until completely coated. After marinating the chicken in the fridge for at least an hour, it is baked in the oven. It's that easy! The chicken came out tasty and really good. I like the mild taste of the balsamic vinegar. It was not too overpowering. My family enjoyed this simple dish with steamed rice and salad. Enjoy!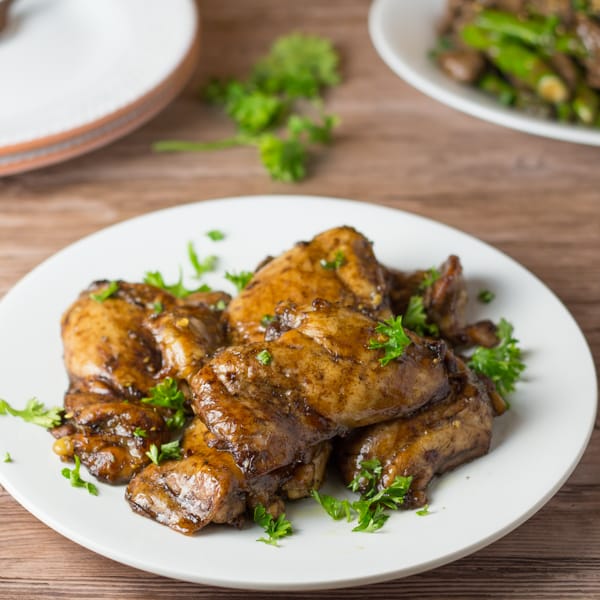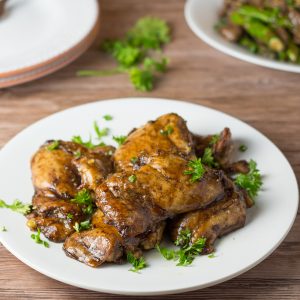 Balsamic Chicken Thighs
Ingredients
2

lb

skinless, boneless chicken thighs

Kosher salt and freshly ground black pepper

¾

cup

balsamic vinegar

¼

cup

olive oil

½

teaspoon

crushed red pepper flakes

¼

teaspoon

dried oregano
Instructions
Season chicken pieces with salt and pepper. Set aside.

In a Ziploc bag, combine together the balsamic vinegar, olive oil, pepper flakes and oregano.

Add chicken pieces, seal and toss to coat the chicken pieces completely. Marinate chicken in the fridge for at least an hour.

Preheat the oven to 425 degree F. Line a rimmed baking sheet with aluminum foil.

Drain the chicken from the marinade and then place on the prepared baking sheet. Bake for 20 minutes or until cooked through.

Serve with steamed rice and salad.
Notes
Recipe source: Daphne Oz as featured in the June 3, 2013 issue of People's Magazine.