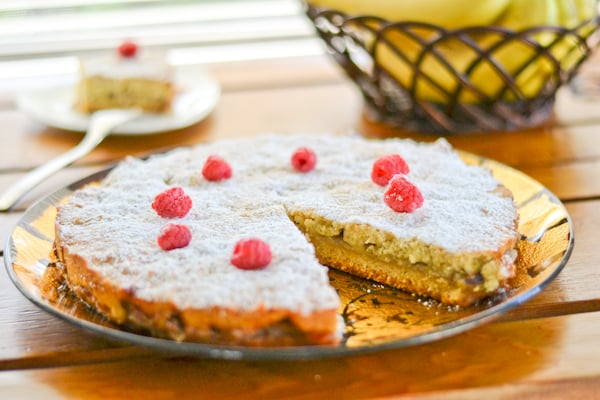 What should I do with overripe bananas? That was the question I was asking myself on Saturday when I ended up with a bunch of them. I would usually make Chocolate Chip Banana Bread, but this time I wanted to try a different recipe. I found one that is different in this banana cake dish; the bananas are not incorporated in the batter. Instead it was used as a filling between cake mixtures. The bottom of the pan is lined with half of the cake mixture and baked first, and then the diced bananas are spread over it and finally it is covered with the rest of the cake mixture.  The smell in my kitchen while baking this banana cake was heavenly. The cake tasted heavenly, as well.  No wonder it did not last long.  I am already thinking of what other fruits to use for filling…apple, maybe.  😀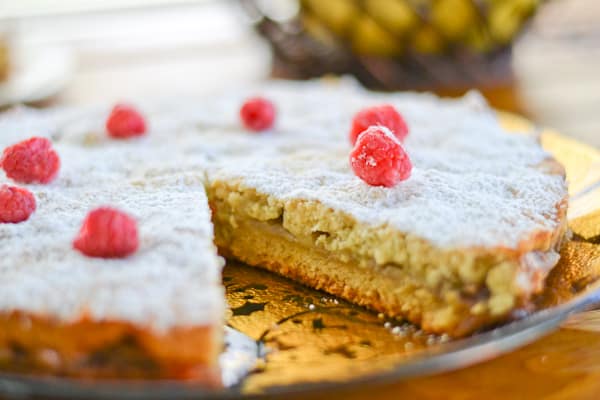 Banana Cake
Ingredients
¾ cup butter, softened
¾ cup sugar
2 eggs
1 ¼ cups all-purpose flour
½ cup corn flour
1 teaspoon baking powder
Pinch each salt, ground ginger, cinnamon, cloves and nutmeg
5 regular-size banana
Juice and grated rind of 1 lemon
Icing sugar
Instructions
Preheat oven to 350°F. Grease the bottom of a 10-inch springform pan.
Cream the butter and sugar until light and fluffy. Beat in the rind and eggs. Sieve 1 cup of the flour, corn flour, baking powder, salt and spices into the creamed mixture and fold in. Use half of the mixture to line the base of the baking pan. Bake for 25 minutes. Let it cool.
Peel the bananas and dice them. Sprinkle with the lemon juice, then spread over the top of the cooled base.
Mix the remaining cake mixture with the remaining flour to form dough, adding more flour as needed. Roll out the dough to form a circle and then gently lay it over the banana filling and press to seal the edges.
Bake for 50-60 minutes or until top is golden brown. Baking time may vary, depending on the oven, so take a peek at 50 minutes and see how the cake looks. Sprinkle with icing sugar and leave to cool in the pan.
Enjoy!
Notes
Recipe source: "The Best of Cooking".