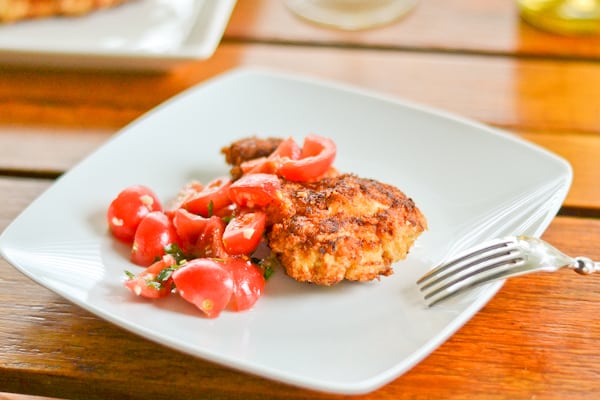 While I was grocery shopping on the weekend, I saw a cookbook that had a delicious looking parmesan chicken dish as the cover. I browsed through the book and was impressed with the simple recipes inside. I bought it, already thinking which recipes to try.  I had the opportunity to make the parmesan chicken last night. It was a good thing that I had all the ingredients on hand, including the chicken thighs and fresh basil, which my husband recently planted in our herb garden.  For this recipe, I used chicken thigh because it retains its moisture while cooking. I did have to bake the chicken meat after frying to cook it through. The refreshing cherry tomato salad goes well with this dish. My family loves this chicken dish, definitely a keeper 😀

Parmesan Chicken with Cherry Tomato Salad
Ingredients
1 lb boneless, skinless chicken thighs or breasts (around 6 pieces)
½ cup all-purpose flour
2 eggs
1 cup panko breadcrumbs
1 cup shredded parmesan cheese
7 tablespoons olive oil
12 oz cherry tomatoes, quartered
1 garlic clove, minced
2 tablespoons finely chopped fresh basil
Salt and pepper
Instructions
Spread flour on shallow dish. Beat eggs in second shallow dish. Combine breadcrumbs and cheese in third shallow dish. Pat chicken dry with paper towels and season with salt and pepper. Working with one chicken piece at a time, dredge chicken in flour, dip in egg, then coat with breadcrumbs mixture, pressing gently to adhere.
Heat 3 tablespoons oil in 12-inch non-stick skillet over medium heat. Cook three chicken pieces until golden brown and crisp, about 2 minutes per side. Transfer to paper towel-lined plate. Repeat with the 3 tablespoons oil and remaining chicken.
Transfer browned chicken pieces on a baking sheet lined with foil. Bake at 350°F for 20-25 minutes or until chicken are cooked.
Meanwhile, toss tomatoes, garlic, basil and remaining 1 tablespoon oil together in a bowl and season with salt and pepper to taste. Transfer chicken pieces to individual plates and top with cherry tomato mixture.
Serve and enjoy!
Notes
Recipe adapted from"America's Test Kitchen- The Best Simple Recipes".