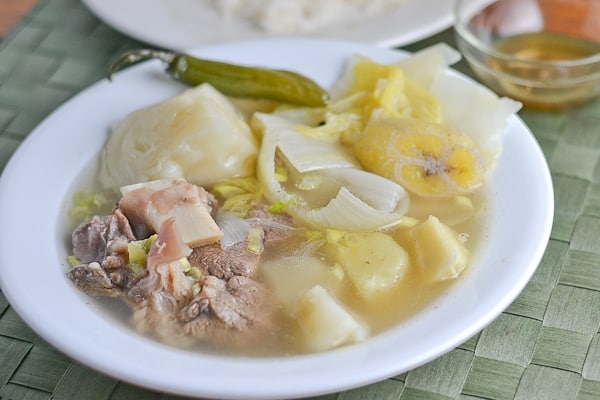 Through social media, I was able to reconnect with some old friends from my college days (35 plus years ago). It was fun catching up with them and to reminisce our school times together. We talked about a lot of things and one particular topic that came up was a Filipino soup dish called beef lauya. I was told this dish is similar to nilaga but with some added ingredients like garlic, ginger, sugar and sweet potatoes. It is also similar to another dish called pochero, a stew that has the same ingredients except for the addition of tomato sauce or paprika.
Weather here in Vancouver has been cold and dreary, so this soup was just the perfect meal to prepare for my family. I regularly cook nilaga for my family so I just followed the same procedure and added garlic, ginger, sugar and sweet potatoes. I used beef shank in this recipe because it is a flavorful piece of meat and is great for soups. Other meats like pork or chicken may also be used. This beef lauya soup, with the added ginger and garlic may tastes different from nilaga but they are both very comforting and satisfying. Everyone enjoyed a bowl of this hearty and delicious soup and according to my husband, lauya is now his favorite soup.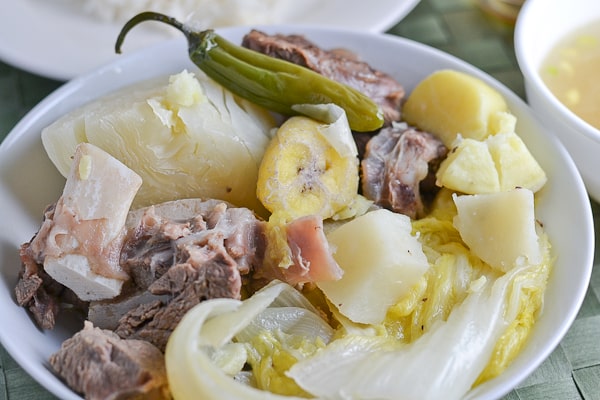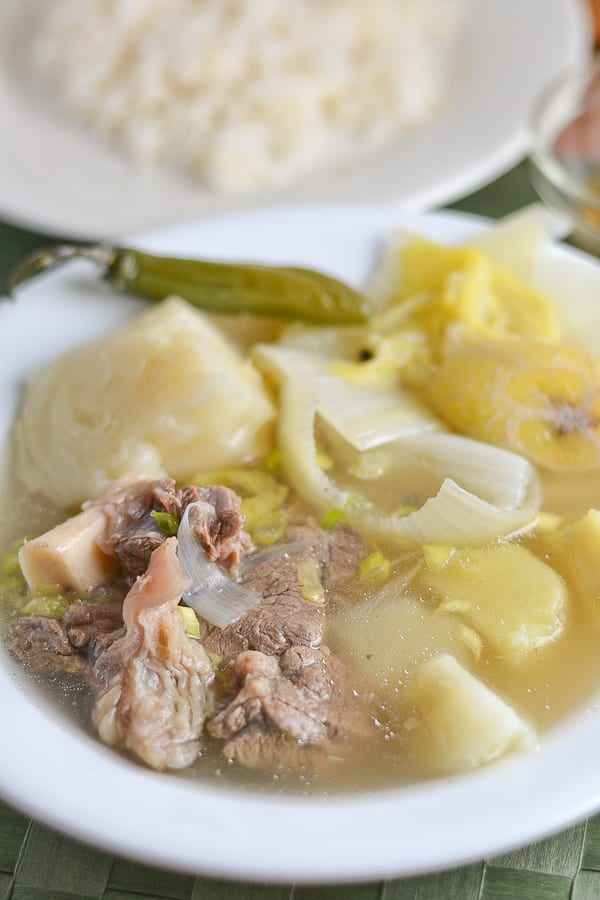 Beef Lauya
Ingredients
3 lbs beef shank (bone-in), cut into serving pieces
4 cloves garlic, crushed and peeled
1 large onion, peeled and halved
Small knob fresh ginger, peeled and crushed
1tsp whole peppercorns
1 large potatoes, peeled and cubed
3 (around 1 lb) sweet potatoes, peeled and cubed
3 ripe saba bananas (plantain), peeled and sliced diagonally
1 small green cabbage, halved and cored
1 small Napa cabbage, bottom cut
2 Serrano peppers
Fish sauce or salt to taste
Brown sugar to taste, optional
Instructions
Put beef in a big pot and add enough water to cover it. Add salt and bring to a boil over high heat. Skim off scum accumulated on the surface, reduce heat to medium, cover and simmer for two hours, or until meat is fork tender. Add more water as needed.
Increase heat to medium high and then add garlic, onion, ginger, peppercorns and potatoes; cook for 10 minutes.
Add saba, cabbages and Serrano peppers; cook for another 10 minutes or until potatoes are fork tender.
Correct seasoning by adding fish sauce or salt and brown sugar, if using. Serve with steamed rice and fish sauce with lemon juice on the side.
Enjoy!