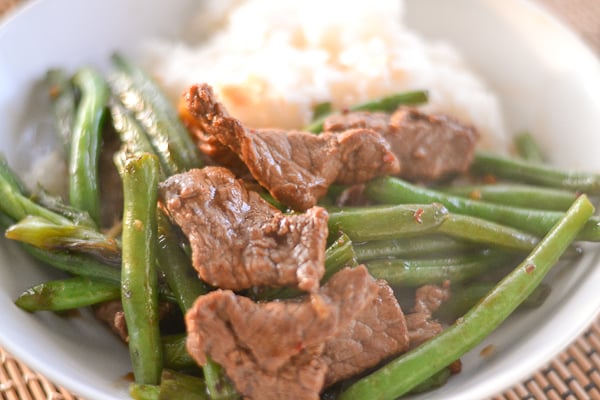 My husband couldn't get enough of this beef and green bean stir-fry I made the other day for dinner. He asked if he could have the left-overs for lunch at work the next day. He wasn't the only one; I also brought this delicious stir-fry for lunch at work too. The tender and flavorful beef with the crunchy green beans over steamed rice was really enjoyable.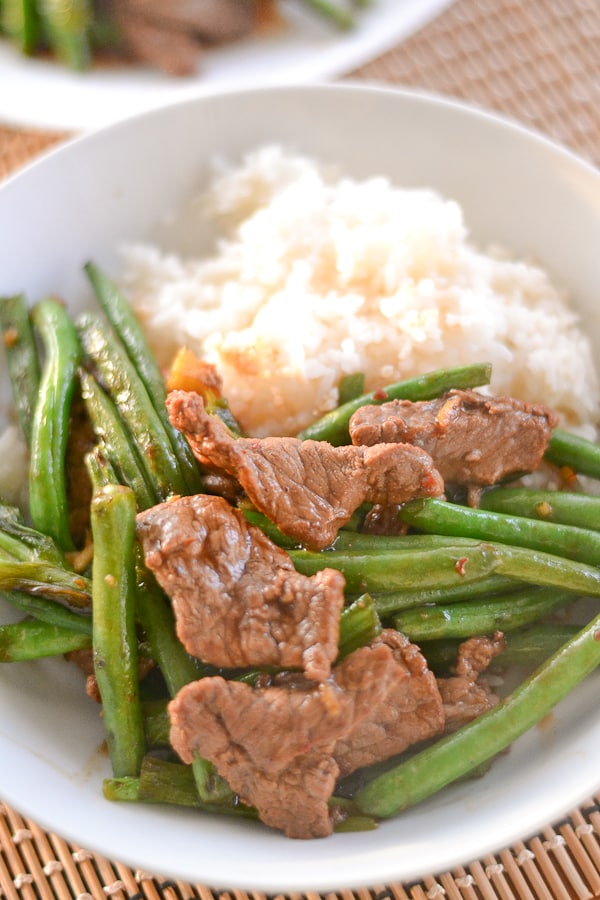 Beef Stir Fry with Green Beans
Ingredients
4 tbsp vegetable oil, divided
1 lb green beans, trimmed and cut into 2-inch pieces
1 (1 ½ lb) beef sirloin steak, sliced thinly
8 green onions, cut into 2-inch pieces
4 cloves garlic, minced
1 tbsp grated ginger
Sauce
⅓ cup chicken broth
¼ cup oyster sauce
2 tbsp soy sauce
2 tsp rice vinegar
1 tsp red pepper flakes
Instructions
In a bowl, whisk together ingredients for sauce. Set aside.
Heat 1 tbsp oil in a 12-inch non-stick skillet over high heat. Add green beans and cook, stirring occasionally, until spotty brown,5-7 minutes. Transfer to a large bowl.
Heat 1 tbsp oil in now empty skillet over high heat. Pat dry steak with paper towels. Add half of steak to skillet and cook 2-3 minutes, or until brown. Transfer to bowl with green beans and repeat with 1 tbsp oil and remaining steak.
Add remaining tbsp oil and green onions to now empty skillet. Stir-fry green onions for a minute. Clear center of skillet, add garlic and ginger, and cook for 30 seconds. Stir garlic and ginger mixture into green onions, then return green beans and steak, along with accumulated juices into the skillet and stir to combine.
Whisk sauce to recombine, and then add to skillet and cook, stirring constantly, until sauce is thickened, about 30 seconds.
Serve and enjoy!
Notes
Recipe source: America's Test Kitchen: The Best Simple Recipes.