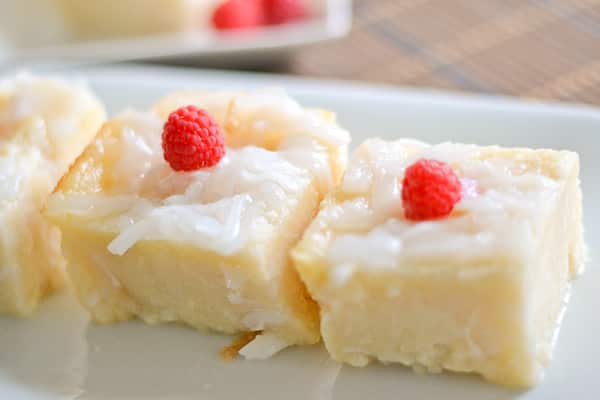 Cassava cake is a popular Filipino dessert that is made from grated cassava, coconut milk, egg, butter and condensed milk or sugar. Others may use vanilla or even grated cheese to add flavor to the cake. This cassava cake recipe is simple and uses the basic ingredients with sweetened macapuno strings added thus giving this cake an added texture. I learned this recipe from a friend who brought it to a potluck one time. It was a big hit at the potluck, so I knew I had to get the recipe. Since then, I have been making this version every time I make this delicious dessert. This wonderful dessert is not only popular to serve during the Holidays but also a favorite all year-round.  Indulge!
Cassava Cake
Ingredients
2 (16 oz) package frozen grated cassava, thawed (about 3 cups)
2 eggs, beaten
½ cup sugar
2 tbsp melted butter or margarine
1 (400 ml) can coconut milk (about 1 ½ cups)
1 (12 oz) bottle macapuno string (coconut sport) in syrup
Instructions
Preheat oven to 350°F.
In a large bowl, combine grated cassava, egg, sugar, butter and coconut milk; mix thoroughly. Stir in ½ bottle macapuno string, saving the rest for topping. Pour mixture in a greased 8-inch cake pan.
Bake for 1 hour and 20 minutes or until mixture is firm and top is completely dry.
Spread remaining macapuno string on top of cooked cassava. Set oven temperature to broil and let macapuno set, about 4-5 minutes. Let cool completely before slicing.
Serve and enjoy!